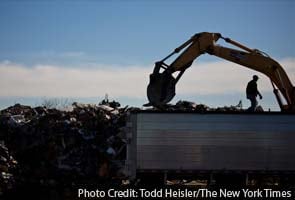 New York:
Little more than a week after Hurricane Sandy whipped the New York area with brutal winds and a record storm surge, officials mobilized for a nor'easter that threatened to deliver more of the same, though in smaller amounts, along with wet snow in places where frustration continued to run high.
More than 600 residents of three nursing homes and an adult care center in Queens were being evacuated Tuesday ahead of the nor'easter, according to state and city health officials.
The city also ordered construction work halted from noon Wednesday to 7 a.m. Thursday because gusts of wind could hit 60 mph as the nor'easter closed in. Parks and playgrounds were also ordered closed for 24 hours starting at noon Wednesday amid concern that trees that took a beating last week were more likely to topple this time around.
On Tuesday, a National Guard truck carrying Guard members involved in the storm relief effort struck and killed an 82-year-old man in Chinatown, the authorities said. The man, who was not immediately identified by the police, suffered "severe body trauma" after he was hit by the truck, one of more than 600 vehicles that the New York National Guard has deployed to storm-struck areas of the state.
He was pronounced dead at New York Downtown Hospital shortly after the accident, which occurred around 1:25 p.m., the police said.
The accident came as a weary New York continued cleaning up, finding temporary homes for some, temporary office space for others and temporary classrooms for some schoolchildren.
Federal Emergency Management Agency officials said Tuesday that so far, 992 individuals or families had moved into hotel or motel rooms paid for by the federal government in New York or New Jersey, in a program that will initially run for at least two weeks. In New York City, FEMA is paying $295 a night for those rooms. As of Monday, officials said 450 rooms had been occupied as part of the program, which started over the weekend.
The city's public schools, which were closed for Election Day, were to reopen Wednesday. Most students returned Monday, some to schools that had no heat, but those from several dozen schools that had sustained damage or were being used as shelters were told not to return until Wednesday.
The city schools chancellor, Dennis M. Walcott, toured two schools Tuesday that will take in students from damaged schools. He commended them for their coordination and cooperation even as he acknowledged that transportation would be tricky on Wednesday.
"We're squeezing in new busing routes within a very short period of time, which would normally take months to put in place," he said, "and so I've asked for patience from our school population, especially our parents."
And there were new signs that last week's storm damage was worse than had been thought. Employees at Bellevue Hospital Centre, which evacuated hundreds of patients after water gushed into the basement, said it went on lockdown Tuesday because of possible structural damage.
A spokesman, Ian Michaels, said the hospital was in "cleanup and restoration mode" and was assessing how the building had fared in the storm. But he insisted there was no structural damage "that we are aware of."
Gas lines were shorter in New Jersey, but drivers said they remained stubbornly long in parts of Manhattan and Brooklyn and on Long Island, and federal energy officials estimated that no more gas stations had fuel Tuesday than Monday.
The waits were unpredictable at a Hess station in Manhattan, where the gas line had stretched for 30 blocks over the weekend. Fritz Petit-Homme, a Brooklyn cabdriver, said Tuesday that a day earlier he had waited only 45 minutes to fill up before beginning a 12-hour shift.
On Tuesday morning, the station was tapped out. But Petit-Homme decided to wait with dozens of other drivers until the next fuel tanker rolled in.
"It's better to stay in line than to go," Petit-Homme said.
On Wednesday, the Holland Tunnel is expected to open to traffic at 5 a.m., according to Gov. Andrew M. Cuomo's office.
Utility crews continued to work across the area Tuesday, and Consolidated Edison reported slightly fewer than 90,000 customers were still in the dark Tuesday, about half in the city and half in Westchester County. The Long Island Power Authority said 190,000 customers did not have power. In New Jersey, Public Service Electric and Gas said it still had about 227,000 customers waiting to get electricity back.
Mayor Michael R. Bloomberg said the nor'easter would bring a 2-4 1/2-foot surge in water levels during Wednesday's high tides, at roughly 1 p.m. and midnight - less than the record surge that Hurricane Sandy drove ashore, but enough to re-flood low-lying coastal neighbourhoods.
The rain was expected to start Wednesday and to last into Thursday. Some forecasters said that as the nor'easter swirled up the Atlantic Coast, it could follow a different course and direct less fury on the areas that Hurricane Sandy devastated.
Still, the National Weather Service issued a coastal flood warning for New York Harbour and a wind warning for New York City, Long Island and coastal Connecticut.
"There is still the potential for some storm surge to increase the tide levels on the south shore of Long Island," said David Stark, a meteorologist with the Weather Service, "but not anything near what we saw with the last storm."
© 2012, The New York Times News Service