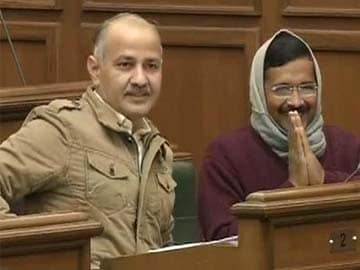 New Delhi: Arvind Kejriwal, chief minister of Delhi, has won a crucial trust vote in the state legislature, demonstrating that he has the support of 38 of Delhi's 70 legislators, a clear majority.

"The people of Delhi have won today," the Aam Aadmi Party chief said after winning the trust vote this evening. He also promised that his party would spare no one corrupt, whether in the Congress, the BJP or his own government.
Here are the 10 big developments in this story:
AAP won the vote this evening with the support of eight legislators of the Congress, the lone Janata Dal United member Shoaib Iqbal and an Independent.
The BJP's 31 law-makers and one of its ally, the Akali Dal, opposed the motion. Arvind Kejriwal heads a minority government with 28 members in the Delhi Assembly. (Delhi Assembly: see the numbers here)
In his 25-minute speech to close the debate on his trust motion, Mr Kejriwal said, "I have not stood up here to save a government...we want swaraaj, the people's rule, in Delhi." (Highlights of Arvind Kejriwal's speech)

He presented the 17 points he said his government will focus on and emphasised that its raison de etre is to end corruption, because the aam aadmi or common man wants honest politics. Immediately after Mr Kejriwal's speech the chair asked those who supported him to stand, and then declared that the AAP government had won the confidence of the House.(Rate Arvind Kejriwal's speech in the Delhi Assembly)
The BJP's Dr Harsh Vardhan alleged after the vote that Mr Kejriwal had in his speech not answered any of the questions his party had posed. "AAP has been exposed...it has compromised with the most corrupt party of this country...we are against corruption," he said.
In his speech, the Congress' Arvinder Singh Lovely assured Mr Kejriwal that his party would continue to support him "till you keep taking decisions that benefit the people." He cautioned though that some of the swift decisions that Mr Kejriwal has taken in the last few days should have been better thought through.
During the debate, legislators from the BJP engaged in a nasty slanging match with JD(U) member Shoaib Iqbal, impelling a rebuke from the chair and a warning that security would be called in.
Mr Kejriwal and members of his Aam Aadmi Party did not wear their trademark topis or caps for the proceedings today. The BJP has said wearing caps inside the house is disrespectful.
Tomorrow, the Delhi Assembly will elect the Speaker and Deputy Speaker. The Aam Aadmi Party is fielding first-time legislator MS Dhir. The BJP has said it will field veteran Jagdish Mukhi.
"The Speaker's election is not a challenge for us. Anyone can become speaker. It makes no difference to us," said Mr Kejriwal.