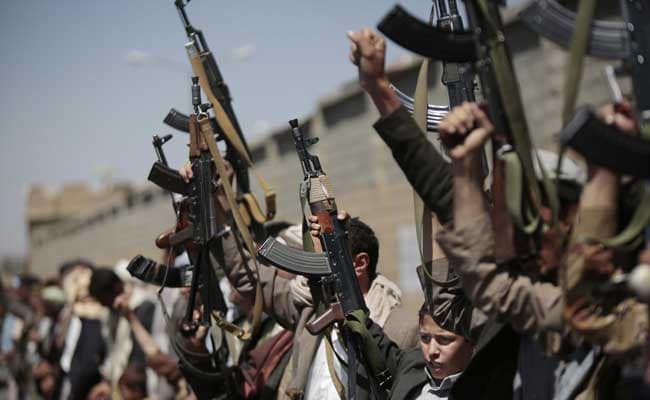 Sanaa/Najran, Saudi Arabia:
A supposed ceasefire in the Yemen conflict expired a minute before midnight on Saturday after a day of heavy fighting between Saudi-backed forces and the Iran-allied Houthi movement.
Each side accused the other of repeatedly violating the three-day truce and U.N. attempts to extend it before it lapsed appeared to have failed.
Ground fighting raged largely unabated despite the ceasefire, but air attacks on the capital, Sanaa, stopped and there were fewer Houthi missile strikes on Saudi Arabia, residents and local officials said.
The UN and diplomats had hoped a pause in the conflict would pave the way for talks to end a 19-month-old war which has killed at least 10,000 people in the Arabian Peninsula's poorest country, and would allow badly needed aid to be delivered.
A Saudi-led coalition backing the exiled government accused the Houthis of violating the ceasefire almost 1,000 times in the last 24 hours by launching mortar and armed attacks along Yemen's border with the kingdom and in several Yemeni provinces.
General Ahmed al-Asseri, commander of the Saudi 4th Brigade on the border in the Saudi province of Najran, told Reuters his forces were repelling a sustained Houthi ground attack.
"The violation of the truce was not from our side. It was from the other side. We are continuing to thwart them," Asseri said, speaking at a military outpost in the arid mountains separating the two countries.
"In the last 48 hours there was an enormous push by the enemy against our territory ... large numbers of fighters were moving towards the border."
Asseri said coalition forces did conduct an air strike inside Yemen against missiles and launchers that threatened Saudi civilians.
"The presence of missiles next to the border, we must deal with it with decisiveness. We must."
Houthi-run channel al-Masira said its forces had attacked Saudi positions in Najran on Friday and launched rockets into the neighbouring Saudi province of Jizan.
The network said Houthi fighters had repelled government advances backed up by Saudi-led air strikes toward the capital Sanaa from several directions.
Ali Mohsen al-Ahmar, the exiled vice president and a powerful military leader, said in a statement that U.N. envoy Ismail Ould Cheikh Ahmed had asked for the truce to be extended for another 72 hours on Friday.
Government sources told Reuters that foreign diplomats had lobbied both sides to prolong the ceasefire, but neither the government nor the Houthis appeared to have complied.
Along the border, trust was in short supply.
"By God, there is a truce, but it doesn't work with these people," said Hussein al-Abdali, 63, whose home in Jizan - in the shadow of Yemen's mountains - was damaged by a Houthi rocket on Thursday.
"They're devils. I swear, they can only be stopped by fire and steel."