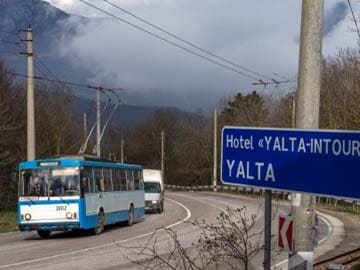 Yalta:
Almost every day for the past 30 years through Crimea's turbulent recent history, Natalia Yudenkova has climbed behind the wheel of her number 52 trolleybus.
She drives it from the peninsula's main city Simferopol to the Black Sea coastal resort of Yalta 85 kilometres away (50 miles). In a curiosity of which locals are proud, it is the longest trolleybus journey anywhere in the world.
She goes past the Perevalne village, where a major Ukrainian military base was overtaken by Russian troops last month, over the Angarskiy mountain pass, through the vineyards of Massandra, before finally arriving in Yalta, the Black Sea coastal resort that provided the venue for the historic conference of victors after World War II.
As the world turns, the line keeps running, from the time Communist party boss Nikita Khrushchev ordered its construction, to the present day when Russian President Vladimir Putin annexed the peninsula in a historic redrawing of Europe's map.
"I come to work every day in a very good mood," Yudenkova said after making the 2.5 hour drive through the Crimea countryside. "Because it's my work, to drive people, and our nature is really beautiful."
Crimea was long a tsarist vacation spot before becoming a summer destination for more humble tourists drawn to the pristine mountain air and seaside spas during the Soviet era.
Khrushchev ordered the building of the electric trolleybus in 1958 because the soft local rock could not support railroad tracks and buses would be too polluting.
It was the only way to transport the throngs of workers arriving from their factory towns to the sanitoriums - resorts managed by the Soviet state where people went in the summer to improve their health. In its heyday, the trolleybus left every two minutes, transporting half a million people every day.
'Image of Crimea'
"The route symbolised new life, life that was comfortable for people, that brought happiness. Now these trolleybuses look old but in the early 1960s it was only 15 years since the war ended, people were still getting their lives together," said Valery Zaikin, director of Krym Trolleybus, the public company running the transportation network.
"It's the image of Crimea," he said. "In Switzerland they have trains, and we have the trolleybus."
Company workers claim to have transported six billion people since 1959.
In the days before the trolleybus, this route was used by Joseph Stalin, Franklin Roosevelt and Winston Churchill when they met in Yalta in 1945 to discuss the post-war organisation of Europe.
"I saw the automobiles go through the city," recalled retired trolleybus worker Georgy Slavny, now 85, showing old photographs of the square that the motorcade went through as crowds of people looked on, cheering.
"There must have been 100 cars, all American cars with dark windows, and only Churchill sat in a Willys convertible," said Slavny, now a curator of Crimea's trolleybus museum.
"He had a cigar in his mouth, flanked by two soldiers with rifles, and waved his cap, while everyone yelled - Churchill! Churchill!"
"Crimea is rich with history," he said.

Museum on wheels
Once a symbol of post-war progress, now Crimea's trolleybus encapsulates the peninsula's quirky mix of charm and decay: old models look like they belong in a museum rather than on the road, and some passengers taking the creaky Czechoslovakia-built trolley said they would rather drive their own car.
"They should be removed so that people can go fast, like in other countries," said a passenger named Yakub, riding in the back seat with a big duffel bag on a recent afternoon.
"It takes too long and it keeps shaking," he said.
But many of the newly built models are often good only for cities and can't handle the windy mountain road that climbs to 752 meters above sea level. A Ukrainian factory in western Ukrainian city Lutsk had to engineer some trolleys specifically for the number 52, Zaikin said.
It is not clear whether the firm will get Russian or Ukrainian models in future, although Zaikin has already hung a portrait of Vladimir Putin in his office.
He said he was confident that Moscow would figure it out -- after all, it was Moscow that ordered the route built in the first place.
One change was all but certain, he said: the rock-bottom price of 15 hryvnias ($1.35) would surely go up.