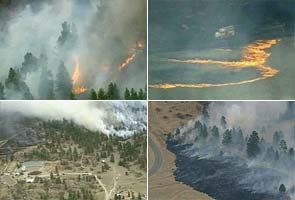 Denver, Colorado:
The second major wildfire to erupt this week in Denver has grown to 1,600 acres and prompted about 8,500 residents to flee their homes.
The fire started on Thursday afternoon and is being driven by winds of over 50 kilometers per hour.
About 100 firefighters have contained 70 percent of the blaze, and people in two major subdivisions are being allowed to go home.
No homes have been damaged.
Smoke from the blaze was visible from far and a helicopter was dropping water on the flames.
A Red Cross evacuation centre was set up at the Douglas County fairgrounds for people and at least 100 horses that were evacuated.
The animals had to stay overnight.
Marv Owens, local resident who was rescuing horses, said that the fire spread very quickly due to strong winds.
It's not known how the blaze started, but it burned erratically, creeping right up to a high school that fire officials were using as a headquarters.
Crews are also fighting a roughly 2-square-mile fire in the foothills west of Denver.
The fire started on Sunday and is burning in rugged, steep hills.
Wildfires are common in Colorado this time of year, when winds are strong and vegetation is dry.