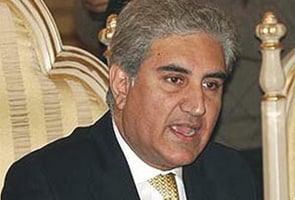 Boston:
Pakistan on Tuesday told US to respect its "sovereignty", with Foreign Minister Shah Mehmood Qureshi saying Islamabad is an "ally and not a satellite" and claimed that attacks like those by NATO helicopters on its soil "infuriated" the people of his country.
"The recent attacks by NATO helicopters in Pakistan killing Pakistani soldiers are nothing short of infuriating our people. In the battle of hearts and minds of people of Pakistan, the Kerry-Lugar (aid) is one step forward, massive flood relief is one step forward but drone and helicopter attacks on our territory and people are two steps back," he said.
Speaking at Harvard Kennedy School, Qureshi said Pakistan is an ally to the US, "not a satellite." While it will partner the US "especially in our joint effort to destroy the terrorist cancer," Pakistan is first and foremost "like every nation on earth" committed to preserving its national interest, he said.
"We live in a rough neighbourhood and we will live in that rough neighbourhood even when you leave. We have to prepare for all eventualities, we have to protect our borders.
You have to respect our sovereignty," Qureshi added.
He said the US and Pakistan are trying to create a long-term, mature and mutually beneficial partnership, even though "the mantra of the past, the mantra of exploitation" is proving difficult to wash away from the minds of the people.
"One of the most critical factors in understanding contemporary Pakistan and the political attitudes of the Pakistani people is the exploitation and manipulation of my country as a blunt instrument against Soviet Union during the critical periods of the cold war. There is a reason we are what we are," he added.
"We are a product of a difficult 63 year history that began with a bloodbath across the subcontinent, a total inequitable distribution of resources and industry and a haunting human rights disgrace in Jammu and Kashmir. We have had episodic wars with our often hostile neighbour," he added.
Qureshi said if people wonder why the people and military of Pakistan are concerned about continued commitment of the US to Pakistan in the future, one must look back to 1989 when the Soviets left Afghanistan.
"The Americans victorious left on the next bus out of town."
He said that the "Mujahideen that the CIA cultivated to fight the jihad filled the political vacuum morphing into the Taliban and later into Al Qaeda. The rest is a painful and bloody history for your country and mine."
Qureshi also spoke about the tensions that continue to make Pakistanis distrustful of the American government. He cited a recent Pew Research Center poll, which indicated that 60 per cent of Pakistanis view the United States as an enemy.
"The abandonment by the US of its most precious political human values each time it had to choose between dictatorship and democracy no doubt contributes to the findings of the recent Pew survey which shows that an overwhelming majority of Pakistanis consider America not a friend but rather embarrassingly as an enemy."
"There is a reason why our people believe what they believe," Qureshi said.
"People of Pakistan may see half a century of indisputable evidence of the US dancing the dictators who
subverted the human rights, using our people and soldiers as surrogates in proxy wars."
Qureshi said this is reality and mindset that the two countries have to reverse.
Seeking "trade" and not just "aid" from the US, he said the Congress should pass legislation creating
construction opportunity zones and free trade treaty with Pakistan.
"We need trade not just aid. We need MOUs not IOUs. These are the kinds of things that will win the hearts and minds of our people," he added.
He said if the markets of America and Europe were open to Pakistani exports, the Pakistani people would have far more faith in their government and support for democratic values.
Despite negative stereotypes about Pakistan, the country has robust capital markets and hard working
population, the foreign minister said.
He said if Pakistani schools had proper curriculum for children, parents would be far less likely to turn in desperation to retrograde institutions that poison its people.
Similarly if there were jobs for people in the tribal areas that provided them with decent wages, people would be far less vulnerable to "inducements from radicals and terrorists."
He said the Kerry Lugar bill was a significant development in Pakistan-US ties.
It was a "metaphor for Obama-Zardari doctrine," which emphasizes that only an economically viable Pakistan will have political stability to defeat the terrorist menace.
"Terrorists are hell bent on stopping Pakistan from moving forward to a progressive society," he added.