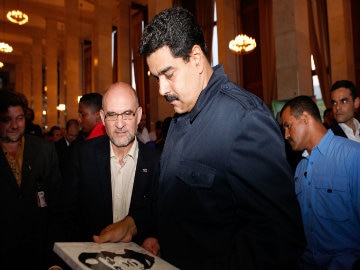 Caracas:
Venezuela's President Nicolas Maduro has suffered a sharp decline in support after a turbulent year in office, with 60 percent of his countrymen disapproving of his performance, a poll out Monday showed.
The poll by the private firm Datanalisis also found that eight in 10 Venezuelans believe their country is going in a negative direction, and nearly 60 percent think Maduro should leave office before his terms ends.
Months of street protests, inflation near 60 percent, widespread shortages of basic goods and soaring crime have immersed the oil-rich OPEC member in an unresolved political and economic crisis since Maduro succeeded Hugo Chavez in mid-April 2013.
The poll results, which were published Monday by the newspaper El Universal, were drawn from a survey of 1,300 people between March 31 and April 20.
Asked "How do you evaluate the country's situation at the current time," a third of respondents to the Datanalisis survey said it was "very bad," another third that it was "bad," and 12.7 percent "regular to bad."
The poll found public support for Maduro's performance has dropped sharply, with 59.2 percent disapproving of it, compared to a 44.6 percent in November.
Six in ten Venezuelans (59.1) percent said Maduro should leave office before his term ends in 2019.
Of those surveyed, 39 percent said he should leave this year and another 20.1 percent in a recall election in 2016. Just 19.7 percent said he should finish his mandate.
For the first time, Venezuelans placed the state of the economy as their top concern ahead of crime, with 32.5 percent citing food shortages.
Nearly 32 percent blamed Maduro for the country's problems; 17.2 percent blamed "the people," and 13.8 percent his cabinet ministers.
Between 60 and 70 percent described both the government and the broader situation as "unstable."
The poll also found little support for the government's contention that the right-wing opposition or the United States is to blame for the crisis.
Less than two percent of those polled blamed either jailed opposition leader Leopoldo Lopez or former opposition presidential candidate Henrique Capriles.
Only 1.3 percent thought the United States was responsible, despite Maduro's frequent accusations that Washington was behind a right-wing plot to destabilize his government.