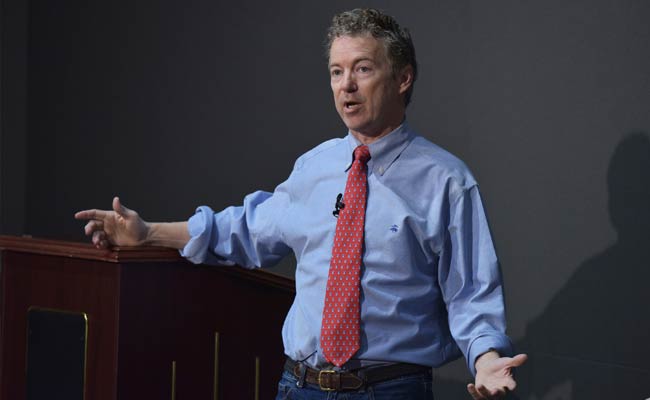 Washington:
US officials announced charges today against the head of a political group supporting Senator Rand Paul's presidential run, saying he secretly paid an Iowa legislator to switch political allegiances during the 2012 Republican primaries.
The US Justice Department unveiled the indictment featuring charges against Jesse Benton, head of the super PAC (political action committee) America's Liberty now backing Paul, as well John Tate and Dimitrios Kesari.
All three worked in the 2012 presidential campaign of congressman Ron Paul, father of the senator now seeking the White House.
According to the indictment, the three were charged with conspiracy, falsifying records to obstruct a contemplated investigation, and causing submission of false campaign expenditure reports.
Benton is also charged with making false statements to the FBI, while Kesari has been charged with obstruction of justice.
The indictment presents a fresh complication for Paul, whose poll numbers have slipped in recent weeks as he seeks the Republican nomination contested by 17 candidates, and as he takes the stage Thursday in the first debate of the election cycle.
"Senator Rand Paul is disappointed that the Obama justice department chose to release this just prior to the highly anticipated first Republican presidential debate; it certainly appears suspiciously timed and possibly, politically motivated," a campaign spokesperson told AFP. "Additionally, these actions are from 2012 and have nothing to do with our campaign."
The case revolves around Kent Sorenson, a Republican state senator at the time who chaired US congresswoman Michele Bachmann's presidential campaign.
He dramatically switched his support to Ron Paul's campaign in late 2011, infuriating Bachmann.
"Between October and December 2011, (Sorenson) secretly negotiated with the defendants to switch his support to their candidate in exchange for money," the Justice Department said in a statement.
The indictment said the defendants paid a total of $73,000 to Sorenson and sought to conceal the payments from Ron Paul, the Federal Election Commission and the Federal Bureau of Investigation.
"Violating campaign finance laws by concealing payments to an elected official undermines our electoral system and deceives the public," said FBI Special Agent in Charge David LeValley.
"The FBI will aggressively investigate those who corrupt the integrity of our democratic process."
John Tate is listed on America's Liberty's website as the PAC's founder.
Benton, 37 and from Rand Paul's state of Kentucky, is married to Ron Paul's granddaughter and has been a close family confidant since 2007, according to The Washington Post.
The daily also reported that Sorenson pleaded guilty last August to concealing campaign expenditures and obstructing justice as part of the scheme, and had admitted in federal court that Ron Paul's campaign secretly paid him $73,000 after he dropped Bachmann and endorsed Paul's White House effort.