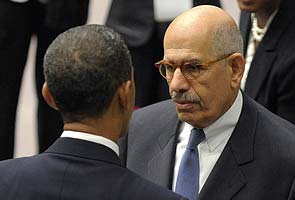 Washington:
When President Obama unexpectedly won the Nobel Peace Prize in 2009, one predecessor was quick to applaud his selection for the award.
"I could not have thought of any other person that is more deserving of the Nobel Peace Prize than Barack Obama," Mohamed ElBaradei, then the director general of the International Atomic Energy Agency, said in a videotaped statement. He went on to praise Mr. Obama's commitment "to restore moral decency" to the lives of people around the world.
But on Sunday, Mr. ElBaradei, now a prominent face of the opposition on the streets of Cairo, was sounding a different tune. "The American government cannot ask the Egyptian people to believe that a dictator who has been in power for 30 years will be the one to implement democracy," Mr. ElBaradei told CBS's "Face the Nation." He called the United States' refusal to openly abandon President Hosni Mubarak of Egypt "a farce."
Mr. ElBaradei, 68, had a fractious relationship with the Bush administration, one so hostile that Bush officials tried to get him removed from his post at the atomic watchdog agency. But as Egypt's powerful Muslim Brotherhood and the secular opposition on the streets of Cairo have increasingly coalesced around Mr. ElBaradei to negotiate on their behalf, the Obama administration is scrambling to figure out whether he is someone with whom the United States can deal.
Since the protests in Egypt erupted, Obama administration officials have been trying to reach Mr. ElBaradei, but they had not made contact as of Monday afternoon, a White House official said. "I think that outreach is ongoing," said Robert Gibbs, the White House press secretary.
Besides both winning Nobel prizes (Mr. ElBaradei won his Peace Prize in 2005), Mr. Obama and Mr. ElBaradei both opposed the war in Iraq, a position that tainted Mr. ElBaradei's relations with the Bush administration. Mr. Obama and Mr. ElBaradei spoke by telephone three times in the fall of 2009, as the nuclear agency director was finishing up his term, and the two men met in September 2009 at the United Nations, where Mr. Obama was hosting a nuclear security summit meeting. They talked about Iran's nuclear ambitions, a White House official said.
Diplomatic cables obtained by WikiLeaks showed that Mr. ElBaradei was enthusiastic about Mr. Obama in the early months of his presidency. In April 2009, a cable reported, he told the American representative to the I.A.E.A., Gregory L. Schulte, that on a recent tour of Latin America "his message to each government had been to 'help President Obama succeed.' " He praised Mr. Obama's April 2009 speech in Prague on nuclear disarmament, which had echoed some of his own proposals, declaring "with a laugh that he could have written it himself."
But now, the biggest questions for the Obama administration are Mr. ElBaradei's views on issues related to Israel, Egypt and the United States. For instance, both the United States and Israel have counted on the Egyptians to enforce their part of the blockade of Gaza, which is controlled by the militant Islamist group Hamas.
But in an interview last June with the London-based Al Quds Al-Arabi, Mr. ElBaradei called the Gaza blockade "a brand of shame on the forehead of every Arab, every Egyptian and every human being." He called on his government, and on Israel, to end the blockade, which Israeli and Egyptian officials argue is needed to ensure security.
During an I.A.E.A. board of governors meeting in June 2009, Mr. ElBaradei clashed sharply with Israel's representative over a Syrian reactor destroyed in an Israeli airstrike in 2007. An American cable from Vienna said that Israel had ignored advice not to criticize Mr. ElBaradei publicly, and he responded in kind, accusing Israel of violating international law.
Joseph Cirincione, president of the Ploughshares Fund and a friend of Mr. ElBaradei, said Monday that Mr. ElBaradei wanted Israel to join the Nuclear Nonproliferation Treaty. Israel, along with India and Pakistan, is not a signatory.
One senior Obama administration official said that it was not lost on the administration that Mr. ElBaradei's contentious relations with the Bush administration helped explain why he was now being viewed by some as a credible face of the opposition in Egypt.
"Ironically, the fact that ElBaradei crossed swords with the Bush administration on Iraq and Iran helps him in Egypt, and God forbid we should do anything to make it seem like we like him," said Philip D. Zelikow, former counselor at the State Department during the Bush years. For all of his tangles with the Bush administration, Mr. ElBaradei, an international bureaucrat well known in diplomatic circles, is someone whom the United States can work with, Mr. Zelikow said.
However, he allowed, "Some people in the administration had a jaundiced view of his work."
Among them was John Bolton, the former Bush administration United States ambassador to the United Nations, who routinely clashed with Mr. ElBaradei on Iran. "He is a political dilettante who is excessively pro-Iran," he complained. Even some of Mr. ElBaradei's staff members chafed a bit when he softened the edges of I.A.E.A. reports, especially on Iran.
They believed he was doing everything he could to avoid giving the Bush administration, or Israel, a reason to launch a military attack on Iran's nuclear facilities.
Mr. ElBaradei's term ended early in Mr. Obama's tenure, so any real differences over how to handle Iran never came to a head. And when he left, he said over a dinner that he was enormously admiring of Mr. Obama, chiefly because the new president had adopted much of Mr. ElBaradei's nuclear agenda.
When Mr. ElBaradei returned to Egypt for a visit last February, American diplomats observing his reception thought he had some potential to become an anchor for the political opposition, according to diplomatic cables.
At the same time, American diplomats underscored the limits of his appeal, saying his "broader public support remains unclear" and quoting news reports and members of the ruling party as mocking him as an arrogant outsider.
"Many criticized his intention to 'impose conditions' on Egypt from afar and his desire to see the presidency given to him on a 'silver platter,' " a cable said.