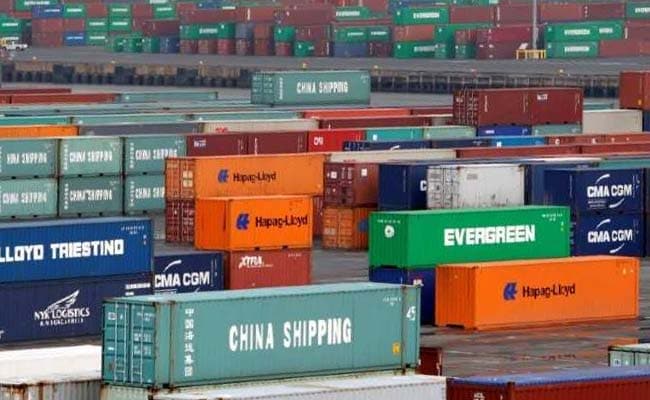 Washington, United States:
The Trump administration is pressing China to cut its trade surplus with the United States by $100 billion, a White House spokeswoman said on Wednesday, clarifying a tweet last week from President Donald Trump.
Last Wednesday, Trump tweeted that China had been asked to develop a plan to reduce its trade imbalance with the United States by $1 billion, but the spokeswoman said Trump had meant to say $100 billion.
The United States had a record $375 billion trade deficit with China in 2017, which made up two thirds of a global $566 billion US trade gap last year, according to US Census Bureau data.
China reported its 2017 US trade surplus as $276 billion, also about two thirds of its reported global surplus of $422.5 billion.
The White House spokeswoman declined to provide details about how the administration would like China to accomplish the surplus-cutting goal whether increased purchases of US products such as soybeans or aircraft would suffice, or whether it wants China to make major changes to its industrial policies, cut subsidies to state-owned enterprises or further reduce steel and aluminium capacity.
The request comes as the Trump administration is said to be preparing tariffs on imports of up to $60 billion worth of Chinese information technology, telecoms and consumer products as part of a US investigation into China's intellectual property practices.
It is also unclear if the requested $100 billion reduction would address US complaints about China's investment policies that effectively require US firms to transfer technology to Chinese joint venture partners in order to gain market access.
The issue is a core part of the probe being conducted under Section 301 of the Trade Act of 1974, a provision seldom invoked since the World Trade Organization was founded in 1995. Trade experts have said tariffs imposed as a result of the China intellectual property probe may fall outside of WTO rules.
In a Thursday editorial, widely-read Chinese state-run tabloid the Global Times said the United States was trying to play the victim.
"If the US wants to reduce its trade deficit, it has to make Americans more hard-working and conduct reforms in accordance with international market demand, instead of asking the rest of the world to change," it wrote.
"Once a trade war starts, capable countries won't bow to the U.S. China has tried hard to avoid a trade war, but if one breaks out, appeasement is not an option."
US TARGETS INDIAN SUBSIDIES
But Washington showed on Wednesday that it has not abandoned the global trade body, launching a WTO legal challenge to India's export subsidies for domestic companies, including producers of steel, chemicals, pharmaceuticals, textiles and IT products.
US Trade Representative Robert Lighthizer said India had failed to remove the subsidies as required by WTO rules after the country reached certain economic benchmarks.
The United States is expected to invoke a national security exception to WTO rules in imposing import tariffs of 25 percent on steel and 10 percent on aluminium announced by Trump last week.
US Commerce Secretary Wilbur Ross told lawmakers on Wednesday his department would soon publish procedures for product-specific exemptions from the steel tariffs for items that are not available from domestic producers or in short supply. The procedures are due by Sunday.
Anne Forristall Luke, president of the US Tire Manufacturers Association, said the group would be "pressing very hard" for an exemption from tariffs for high-strength wire rod used to make cord for steel tire belts that is not produced by US mills.
The largest sources for the material are Japan and Brazil, she said, adding that US tire producers will lose business to foreign competitors if their steel costs rise.
"We are working this from the product side and the country side. We think we have a very good case," she told Reuters.
© Thomson Reuters 2018
(This story has not been edited by NDTV staff and is auto-generated from a syndicated feed.)