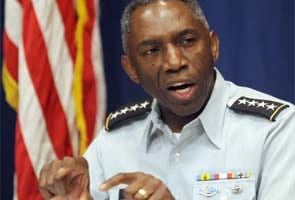 Washington:
A four-star general who headed US Africa Command has been demoted amid charges he spent hundreds of thousands of dollars on pricey travel, Pentagon officials said on Tuesday.
Defense Secretary Leon Panetta demoted General William "Kip" Ward, who was asked to reimburse $82,000 for having inappropriately used Pentagon travel funds, a senior defense official said on condition of anonymity.
The four-star general "will retire at the rank of lieutenant general," a three-star post, a second senior defense official said.
The travel mishaps included bringing Ward's wife on extended business trips, according to a Defense Department Inspector General's report released in June.
One in Bermuda involved a suite for $747 a night at the Fairmont Hamilton Princess. And his wife also allegedly made unauthorized use of armored vehicles.
Ward, the first AFRICOM commander from 2007-2011 based in Stuttgart, has denied the allegations. He currently serves as a special assistant to the US Army's vice chief of staff.
The inspector general's report found that Ward took an 11-day trip to Washington and Atlanta with his military entourage that cost $129,000 and of which only three days were for official business. The primary purpose of the trip was personal.
Ward's wife traveled with the general on military aircraft during 52 of 79 trips reviewed by investigators, according to the report, which also said that Ward extended his trips seven times for personal reasons in which he was reimbursed for travel expenses.
Panetta "insists that leaders within the Department of Defense exemplify both professional excellence and sound judgment," Pentagon spokesman George Little said in the statement.
"The secretary is committed to ensuring that any improprieties or misconduct by senior officers are dealt with swiftly and appropriately."
Ward's demotion comes after the commander of allied troops in Afghanistan was dragged into the sex scandal that brought down CIA director David Petraeus.
General John Allen was placed under investigation after FBI agents probing email threats sent by the biographer and alleged mistress of Petraeus stumbled upon a vast trove of messages Allen sent to another married woman at the heart of the scandal.