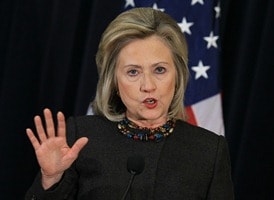 Washington:
US Secretary of State Hillary Clinton on Thursday told law makers that she is encouraged by the resumption of talks between India and Pakistan while expressing support to India's stand that Pakistan needs to prevent the use of its territory against India.
She conceded before a key Congressional committee, that this is one of the greatest impediments to peace talks between the two countries.
"With respect to India, we are working very hard on our strategic partnership with India," Clinton said in response to a question during a hearing on Pakistan at the Senate Foreign Relations Committee.
"I think it's fair to say that, you know India looks at Pakistan and, believes that their continuing support for elements of insurgency against India in Kashmir and across the border into India proper makes it very difficult for them to know what path to choose," Ms Clinton said.
"But I've been encouraged by the cricket diplomacy between Prime Minister Singh and Prime Minister Gilani. I've been encouraged by the resumption of talks that had broken off in 2008," she said.
"We have certainly urged both sides to go as far as they could to build more confidence and to try to be able to develop an atmosphere of greater cooperation," Ms Clinton said.
Ms Clinton told the Senators that one has to think that US has to recognize the overriding, strategic framework in which Pakistan thinks of itself, is its relationship with India.
"So part of what we have been doing is to try to build up capacity within Afghanistan so it is strong enough to defend itself against all comers but without falling back into civil war, because particularly the Northern Alliance constituents believe that they are threatened by Pakistan and the
Pashtuns," the Secretary of State said.
"I remember saying to this committee, it was just unimaginable to me that a government would do that.
And we publicly and privately urged them to get into the fight, which they did.
So, from their perspective, they have had extraordinary losses in the military and in the civilian attacks that have occurred by the Taliban, and they are trying to figure out, as people do when they feel their survival is somehow at risk, how to manage many different factors coming at them all at
once," Clinton said.
"That's not to make any excuses for their behavior, but it is to try to put it into some explanatory context, because we would not disagree at all with Senator Lugar's comment that this is a very strategic situation for us, for the US, and we have to do more to get it right," she said.