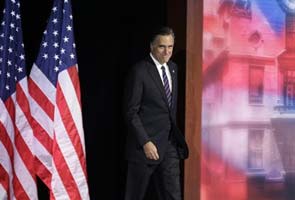 Boston:
After nearly six years trying to become president, Mitt Romney conceded he had lost to President Barack Obama early Wednesday morning, declaring that "this election is over, but our principles endure."
"I believe in America," Romney said one final time, repeating his campaign's slogan, decided long ago. "I so wish that I had been able to fulfil your hopes to lead the country in a different direction. But the nation chose another leader."
The former Massachusetts governor lost the race after nearly 17 months of fighting, gritting through a prolonged primary and enduring a summer of Democratic ads pummelling the business record that was the centerpiece of his candidacy. He ran as the man with the right resume to fix the nation's struggling economy at a time when voters said that's exactly what they were most worried about.
It wasn't enough.
Romney ended the night surrounded by his family, his wife and five sons joining him on stage after his speech at the Boston Convention and Exhibition Centre. He hugged each son, working his way down the line, before he and wife Ann waved one last time and disappeared.
Off to the side, dozens of his senior advisers embraced, their faces drawn. Some were crying.
"It was close," said Stuart Stevens, Romney's senior strategist and constant companion on the campaign trail.
The popular vote was close indeed, with Obama leading 49.5 per cent to 49 per cent as Romney conceded. But the battleground state fight for 270 electoral college votes wasn't close at all.
Obama won nearly all of the swing states that the two had fought over: Ohio, New Hampshire, Wisconsin, Colorado, Iowa, Nevada and Virginia. Romney won North Carolina. Florida remained too close to call when Romney conceded. Obama won at least 303 Electoral College votes, while Romney carried at least 203.
Romney also lost states that his campaign had tried to put in play in the concluding weeks, including Minnesota, Michigan and Pennsylvania.
In the immediate aftermath of the loss, Republicans campaign officials conceded they had serious concerns about Romney's path to victory even before Superstorm Sandy struck. And their internal polls showed that Obama's standing improved in the days after the storm.
In the end, Romney officials said they underestimated the level of turnout from Obama's supporters. And they didn't anticipate surging African-American turnout, which exceeded its 2008 levels in some places, such as Virginia, they said.
The crowd of supporters and donors that met Romney at his election event in Boston was subdued. Dejected supporters milled around the ballroom where Romney had planned to declare victory, some sitting or even lying down on the purple carpet as state after state was called for Obama.
They cheered the win in North Carolina, which Obama captured four years ago. But it was a rare prize. Almost all Romney staffers expressed shock or surprise that so many states had backed Obama.
Romney had been watching the returns in a nearby hotel, surrounded by his sons and 16 of his 18 grandchildren. Running mate Paul Ryan, in the same hotel, watched with his family.
"Paul and I have left everything on the field. We have given our all to this campaign," Romney said as he conceded.
The address was brief, just over 650 words long. He told reporters earlier Tuesday that he had written a 1,118-word victory speech that he thought would conclude his quest for the presidency.
Romney said he had no regrets no matter the outcome. He lost his 2008 bid for the Republican nomination to John McCain. After that run, his wife vowed she would never do it again. Eventually, she changed her mind.
"We're grateful that she convinced him to get into the race because we know that my dad has been uniquely prepared," said Romney's youngest son, Craig, as he addressed supporters early Tuesday evening.
As the state calls came in, and critical Ohio was called for Obama, Romney initially hesitated. He was set to leave his hotel to make the short drive to the ballroom where his event awaited. But then he held back. He waited nearly an additional hour. Aides quietly spread word he would step to the podium at 12:55 a.m.
His speech took less than six minutes. It ended as Romney's speeches almost always do.
"Thank you," he said. "Thanks, guys."