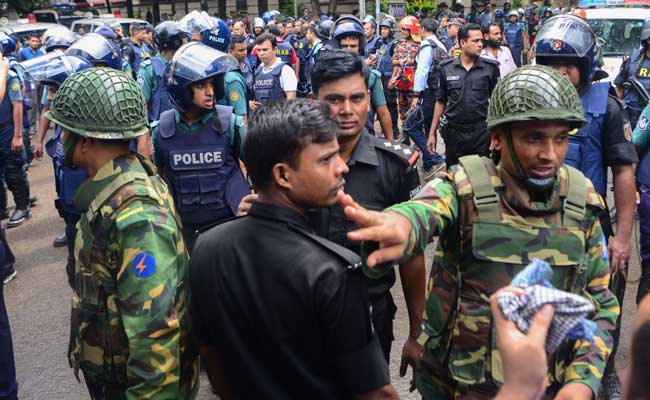 Dhaka:
An American citizen was among those killed in a
deadly attack on a restaurant
packed with foreigners in Bangladesh, US officials said today, pledging support to the government in Dhaka.
The White House and the State Department announced the death, but did not identify the US national.
"We can confirm that a US citizen was also among those senselessly murdered in this attack," State Department spokesman John Kirby said.
"Today, as always, we stand with the people of Bangladesh and in our shared efforts to combat terrorism and violent extremism."
Heavily
armed terrorists murdered 20 hostages in Bangladesh
, hacking many of their victims to death, before six of the attackers were gunned down at the end of a siege today.
Most of the dead were from Italy and Japan.
"We remain in contact with Bangladeshi authorities and have offered any assistance necessary," White House spokesman Josh Earnest said.
Emory University, located in the southern US state of Georgia, confirmed that two students had been killed in the carnage.
Abinta Kabir, from Miami in the state of Florida, was in Bangladesh to visit family and friends, university president James Wagner said in statement.
Ms Kabir was due to begin her second year of study in the autumn.
Faraaz Hossain, from Dhaka, was a student at Emory's business school.
"The Emory community mourns this tragic and senseless loss of two members of our university family," Wagner said.
"Our thoughts and prayers go out on behalf of Faraaz and Abinta and their families and friends for strength and peace at this unspeakably sad time."
Also killed was 19-year-old Tarishi Jain, an Indian national who was a student at the University of California, Berkeley, Foreign Minister Sushma Swaraj confirmed.
Ms Swaraj said she had spoken to the girl's grief-stricken father and conveyed her condolences.
"The country is with them in this hour of grief," she tweeted.
Ms Jain was a graduate of the American International School of Dhaka.
The ISIS group claimed responsibility for the attack on a Western-style cafe in the capital's diplomatic quarter.
Survivors said the hostage-takers separated locals from the foreigners before embarking on a killing spree that was brought to an end 11 hours later in a fierce gun battle.