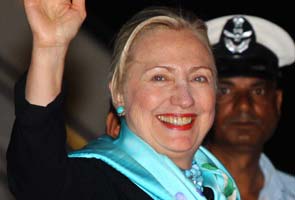 Washington:
The US has asked Pakistan to reconsider its decision to boycott an international conference on Afghanistan in Bonn next week, saying it is in Islamabad's interest and that its participation was "very important" for the future of the war-torn country.
US Secretary of State Hillary Clinton while voicing regret at Pakistan's decision hoped it would reconsider and find a "follow-up way" to take part in the talks in Germany.
85 nations and 15 international organisations are due to attend the crucial international meet starting on December 5.
Addressing an aid conference in South Korea, Ms Clinton reiterated the US position that the border killing of Pakistani soldiers was a "tragic incident" and pledged an investigation "as swiftly and thoroughly as possible."
"Frankly this is regrettable that Pakistan has decided not to attend the conference in Bonn because this conference has been long in the planning," Ms Clinton later told reporters.
"Pakistan like the United States has a profound interest in a secure, stable and increasingly democratic Afghanistan," she said.
Yesterday, Pakistan announced its decision to boycott the Bonn talks in protest against the killing of 24 of its soldiers by NATO forces in a cross-border fire on the Af-Pak border over the weekend. The incident was described by the Pakistani Army as a "deliberate act of aggression".
"We certainly urge Pakistan to participate in this conference. It's very important for the future of Afghanistan," White House Press Secretary Jay Carney told reporters here.
"Pakistan obviously will play an important role in the future of Afghanistan, and we urge them to participate in the conference," Mr Carney said in response to a question.
The US State Department also echoed White House's sentiments.
"It is important to note that this conference is about Afghanistan, about its future, about building a safer, more prosperous Afghanistan within the region. So it's very much in Pakistan's interest to attend this conference," State Department spokesman Mark Toner told reporters.
Follow NDTV for latest election news and live coverage of assembly elections 2019 in Maharashtra and Haryana.
Subscribe to our YouTube channel, like us on Facebook or follow us on Twitter and Instagram for latest news and live news updates.