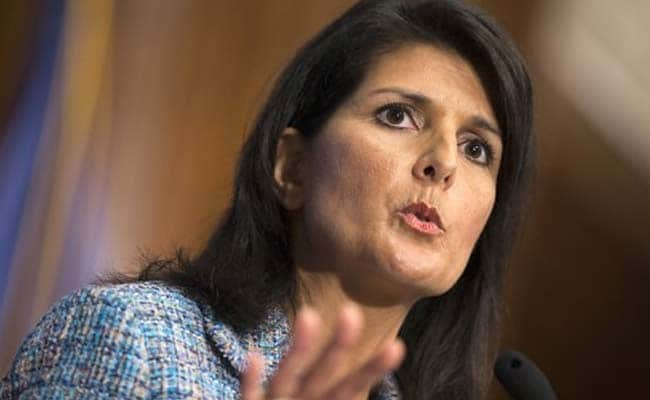 Washington:
Indian-American Nikki Haley, tapped by US President-elect Donald Trump to be United States' UN ambassador, believes that the world body is doing "more harm than good" as she is expected to push for reconsideration of America's whopping funding.
The South Carolina Governor is expected to rap the United Nations for its treatment of Israel and question whether the US' 22 per cent contribution to the world body's annual budget is worth it in her opening testimony at her Senate confirmation hearing today.
"Are we getting what we pay for?" the 44-year-old popular Republican politician asks in a copy of her opening statement obtained by CNN.
Ms Haley, the highest ranking Indian-American to have been nominated in any presidential administration, in her testimony describes the United Nations as "an institution that is often at odds with American national interests and American taxpayers."
"More Americans are becoming convinced that the United Nations does more harm than good," Ms Haley will say as per the leading US TV network.
"Nowhere has the UN's failure been more consistent and more outrageous than in its bias against our lose ally Israel," the report claimed she will say.
Meanwhile, Senator Chris Coons, a member of the Senate Foreign Relations Committee, met Haley at the US Congress.
"My concern is that our adversaries in the United Nations are represented by very seasoned, very capable, very sharp-edged diplomats, and this is not the Model UN. This is the real UN, in the same way that being President is not a reality TV show. This is real life. And so I'm hoping for some clear and strong answers tomorrow to a number of questions I asked today," he said.
"It is a huge portfolio. To be Ambassador to the UN means literally to have to understand the interests and priorities of concerns of over one hundred and ninety nations... I understand she would have a steep learning curve, but I think the UN is a place where we can't afford to have an Ambassador who is learning on the job," he said.
"One thing Governor Haley said that I found encouraging was that she'd been assured by the President-elect that the UN Ambassador would be a Cabinet-level official who would participate in National Security Council deliberations. That's not always been the case, and I do think that strengthens her role in the foreign policy-national security team in the Trump Administration should she be confirmed," Mr Coons said.
Ms Haley, he said, sees value in the UN's important and difficult work in peacekeeping and in refugees.
"She sees NATO as a critical alliance, and she does not trust Vladimir Putin and thinks that we should be suspicious of and push back on Russian aggression and hold them accountable for their actions in Crimea and Syria," the Senator said.
"I pointed out to her that those statements are sharply in contrast to what the President-elect has said and continues to say. She explained how she hopes that the foreign policy and national security team will be able to help shape and inform the President-elect's views...and I found that very encouraging," he noted.