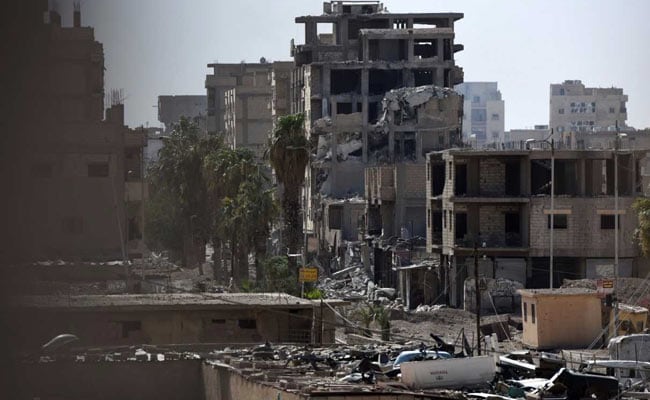 Raqa, Syria:
While thousands of people scramble to flee Syria's battle-torn Raqa, members of the Sheikh Wais family bravely headed back in to recover the bodies of loved ones killed there.
Dodging shelling, air strikes and snipers, the four Syrian Kurds finally made it back into the western district of Al-Daraiya in the terrorist-held city this week.
But hopes of retrieving and burying their relatives were shattered by a nightmarish scene.
"We found half a corpse and some hair. I only knew it was them from my sister Zahraa's gold chain," wailed 17-year-old Amal Sheikh Wais.
Her sister, their brother Abdallah, his pregnant wife Nour and the couple's 18-month-old baby all perished in ferocious fighting between US-backed forces and the ISIS.
"We couldn't even find the baby's body," Amal told AFP, moments after returning from the horrifying ordeal.
Amal, another brother and their mother had just arrived at a home in west Raqa used as a command base by the US-backed Syrian Democratic Forces as they battle ISIS terrorists.
An SDF fighter saw the family approaching their position along a dirt road and first assumed they were civilians escaping ISIS.
"Abdallah! Abdallah! Abdallah!" screamed Amal's mother, dressed in a black robe and white headscarf.
SDF fighters tried to console them, but to no avail.
"There was nothing left of them," said her son solemnly, his head wrapped in a traditional white scarf embroidered with coloured flowers.
A Fatal Decision
Before Syria's war erupted in 2011, Raqa's population was about 20 percent Kurdish, according to French geography expert Fabrice Balanche.
When ISIS overran the city in early 2014, thousands of the city's minority residents fled.
The Sheikh Wais family was one of the few Syrian Kurdish clans to stay in their native city.
"Abdallah would get beaten a lot because he wanted to smoke cigarettes and refused to wear the style of dress" mandated by ISIS, Amal recalled.
As the US-backed SDF tightened the noose around Raqa earlier this year, ISIS turned parts of the city into "military zones" -- including the family's home district of Al-Rumeilah.
The Sheikh Wais family fled across the city to a bakery where they used to work, in the western district of Al-Daraiya.
In June, Amal and her mother risked the harrowing journey out of Raqa further west to the town of Tabqa, which was captured by the SDF two months ago.
But Zahraa, along with Abdallah, Nour and their toddler, made the fatal decision to stay in Raqa, where their situation grew even more dire.
"Daesh kicked them out of the bakery, so they were forced to camp in a nearby field with the bakery owner," Amal said, using an Arabic acronym for ISIS.
Worst Fears Confirmed
After she had settled in Tabqa, Amal learned of rumours circulating on Facebook suggesting that their relatives had been killed.
Her brother, who had managed to cross into Turkey, heard the same news and rushed back across the border to find out what had happened to his family.
Desperate for closure, the remaining members of the Sheikh Wais family gathered last week at a camp for the displaced in Ain Issa, more than 50 kilometres (30 miles) north of Raqa.
Their worst fears were confirmed by Nour's father, who had just escaped ISIS.
"He went to check on them one day and found the dead bodies," Amal said.
"So he covered them in a sheet and built up a small dirt berm around them to mark the location before fleeing the city," she told AFP.
Flustered, she switched between Arabic and Kurdish and said it was still unclear exactly how her relatives had died.
Some recent escapees said they were killed in air strikes as they were preparing to flee, but others blamed ISIS mortar fire.
The United Nations has warned that civilians caught in the fighting or trying to flee face massive risks.
Corpses still litter the streets in areas recaptured by the SDF.
Some are of suspected ISIS fighters, but others -- including those of small children -- are clearly civilians.