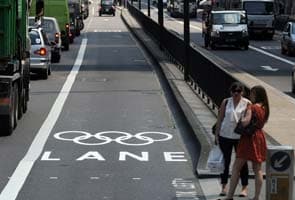 Moscow:
The leader of an Islamist insurgency in Russia's North Caucasus region urged followers on Wednesday to use "maximum force" to prevent President Vladimir Putin staging the 2014 Winter Olympic Games in Sochi.
In a video posted on www.kavkazcenter.com, a mouthpiece for militants seeking an Islamist state, insurgent leader Doku Umarov said an order not to attack Russian targets outside the North Caucasus had been cancelled.
The Games are due to be held next February in the Black Sea resort of Sochi, close to the volatile and mountainous North Caucasus region in southern Russia. Putin has promised tight security at the Games, on which he has staked his reputation.
"They (Russia) plan to hold the Olympics on the bones of our ancestors, on the bones of many, many dead Muslims, buried on the territory of our land on the Black Sea, and we as mujahideen are obliged to not permit that, using any methods allowed us by the almighty Allah," Umarov said in the video.
The authenticity of the video could not immediately be established independently, but Umarov, Russia's most wanted man, has regularly posted videos on the website to send messages to the Islamic fighters he refers to as mujahideen.
"I call on you, every mujahid, either in Tatarstan, Bashkortostan or on the territory of the Caucasus to use maximum force on the path of Allah to disrupt this Satanic dancing on the bones of our ancestors," he said, referring to predominantly Muslim regions in Russia.
A veteran of two separatist wars in Chechnya in the North Caucasus since the collapse of the Soviet Union in 1991, Umarov has taken responsibility for organising numerous attacks, including a suicide bombing that killed 37 people at a Moscow airport in January 2011.
Umarov ordered followers in a video last February to avoid attacks on Russian targets and to limit attacks in which civilians would suffer, but made clear in the new video that this order had been rescinded.
© Thomson Reuters 2013