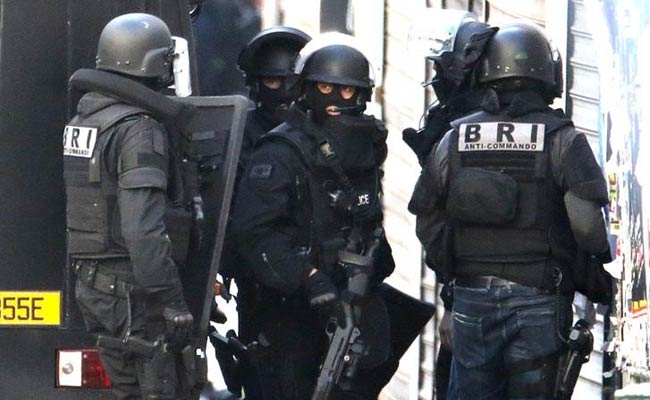 Paris:
French police launched a dawn raid on today as they hunted down those behind the terror attacks that claimed 129 lives in the French capital five days ago.
A snapshot:
Around 04:20 am (0320 GMT): anti-terrorist police raid an apartment in Paris suburb Saint-Denis, home to the Stade de France stadium. Shooting breaks out.
04:31 am (0331 GMT): firemen say they have joined the operation against "an armed group holed up in an apartment". Police say between two and four people are inside.
Around 05:00 am (0400 GMT): intermittent gunfire can still be heard.
05:49 am (0449 GMT): two police officers have been injured, a source close to the probe says.
07:03 am (0603 GMT): At least one person is killed in the apartment, according to a source close to the raid.
07:30 am (0630 GMT): large explosions and firing are heard.
07:40 am (0640 GMT): local authorities recommend that local inhabitants stay indoors.
07:56 am (0656 GMT): two suspected terrorist holed up in the apartment die during the police siege, including a woman who detonated an explosives vest, according to police sources. At least three police are injured in the operation.
09:17 am (0817 GMT): three men holed up inside the apartment are arrested, while a man and woman are arrested nearby, according to the prosecutor's office.
10:00 am (0900 GMT:) a government meeting at the Elysee Palace held as the operation continues.
11:26 am (1026 GMT): police say the assault is over and that seven have been arrested, of which three in the targeted apartment, two in neighbouring apartments and another two in the neighbourhood.