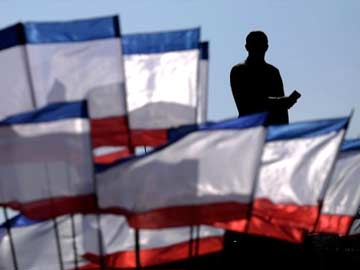 Kiev, Ukraine:
A chronology of the main developments in Ukraine and Crimea, from when the political crisis erupted in November to Crimea's controversial poll on whether to secede from Ukraine on Sunday.
NOVEMBER 2013- 21:
Ukrainian President Viktor Yanukovych suspends talks on an historic trade and political relations pact with the European Union in favour of closer ties with Russia, sparking protests by pro-European opposition groups.
DECEMBER- 1:
Up to 500,000 demonstrators march through Kiev demanding new elections before pouring into Independence Square, where they set up a tent city and build barricades.
JANUARY 2014- 19-22:
Dozens are wounded in clashes between police and protesters after the government adopts new laws to restrict protests. By the end of the month the casualty toll stands at four dead and more than 500 injured.
FEBRUARY- 4:
Protesters demand the return of the 2004 constitution, which limits the president's powers.
- 18-20:
Deadly clashes break out in Kiev in which police use live ammunition against protesters armed with clubs, petrol bombs and, in some cases, small arms. Nearly 90 people are killed, most of them protesters, bringing the toll from the three-month uprising to around 100.
- 21:
Yanukovych and opposition leaders, under pressure from European foreign ministers, sign a political agreement that provides for early elections, the formation of a new unity government and hands many of the president's powers back to parliament.
- 22
: Parliament impeaches Yanukovych, who flees Kiev. Presidential poll is planned for May 25.
-
Opposition leader Yulia Tymoshenko is released from prison.
- 23:
Parliament elects Tymoshenko ally Oleksandr Turchynov as interim president.
- 26:
Russia rejects Ukraine's new leader and puts armed forces on high alert.
-
Pro-Russian demonstrators brawl in Simferopol, capital of the Russian-speaking peninsula of Crimea, with backers of Kiev's interim leaders.
- 27:
Pro-Russian gunmen seize parliament and government buildings in Simferopol, raising the Russian flag. Pro-Russian forces seize airports and isolate Ukrainian military bases on the peninsula.
- 28:
The Ukrainian interior minister denounces the "armed invasion" by Russian forces in de facto control of the peninsula.
MARCH- 4:
Russian President Vladimir Putin denies Russia has sent troops into Crimea. US President Barack Obama says Putin is "not fooling anybody".
- 6:
Pro-Moscow officials in Crimea moot joining the Russian Federation and plan a secession referendum for March 16.
-
The US slaps visa bans on Russians and Ukrainians it blames for destabilising Ukraine.
- 11:
Crimean regional parliament adopts a "declaration of independence".
- 12:
Obama receives interim Prime Minister Arseniy Yatsenyuk at the White House.
- 13:
Ukraine moves to mobilise a volunteer defence force. German Chancellor Angela Merkel warns Moscow of potentially "massive" long-term economic and political damage.
-
A man is stabbed to death during clashes in the eastern city of Donetsk.
- 14:
Six hours of talks between US Secretary of State John Kerry and Russian counterpart Sergei Lavrov in London prove fruitless.
-
A pro-Russia demonstrator and a passerby are killed in a gunfight between rival groups in the eastern city of Kharkiv.
- 15:
Ukraine accuses Russia of invading a border region and vows "all necessary measures" to repel the attack.
-
Russia vetoes UN Security Council resolution affirming Crimea referendum "can have no validity". China, Russia's main geopolitical ally, abstains, increasing Moscow's international isolation.
- 16:
Polls open in Crimea with voters choosing between joining Russia or proclaiming greater independence from Kiev. The poll is backed by Russia but rejected as illegal by Ukraine's government and most of the international community.