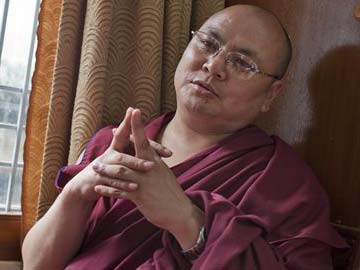 Dharamshala:
A Tibetan monk who worked on 2008 documentary film critical of China's rule in the Himalayan region said he escaped Chinese police custody in 2012 and fled to India last week after hiding out for 20 months.
Golog Jigme, 44, who had been arrested in China a few times since the documentary and alleges he was beaten severely during detention, said he was most recently detained in the Labrang monastery area in China's Gansu province in 2012 for what he said was spreading pamphlets about Buddhist leader the Dalai Lama.
He said he managed to undo his leg shackles and escape. He survived in icy mountains for 20 months begging for food from passing nomads. Also, he said he discovered during that time that he had been falsely accused of murder, making it more urgent to escape to India.
"A large price on my head and my bad knees made it nearly impossible for me to escape, but thanks to the kindness of some people, I managed it," he said in an interview with The Associated Press.
Yangji Cairang, a police official in Xiahe, near the monastery, said he had never heard anything about Golog or his case. China's Foreign Ministry did not immediately respond to a faxed request for comment.
Golog first was targeted by Chinese authorities for his role collecting material for the 20-minute film "Leaving Fear Behind," a collection of interviews with Tibetan nomads expressing their discontent over Chinese rule in Tibet, just ahead of the 2008 Beijing Olympics.
He had traveled through eastern Tibet with a digital camera, but no tripod, to conduct the several dozen interviews. A friend later smuggled the footage to Switzerland for editing.
"Nomads stay in their tents during winter and it's easy to find them. I was able to conduct quick interviews with my small digital camera," Golog said.
He was arrested a few days after series of riots in Tibet in 2008 and accused of passing sensitive information to foreign journalists.
Police came looking for him armed with a phone number they knew to be his, he said.
He was attending prayers with a group of monks in Labrang town when Chinese troops and two armored cars surrounded the compound. The monks were asked to switch their mobile phones on at gun point and place them in front of them. A plainclothes policeman called Golog's number and picked him out from the group.
"As soon as my phone rang, they started beating me all over with rifle butts and batons," he said during the interview.
While serving his seven-month sentence he was repeatedly beaten and tied to a contraption that twisted his body in C-shape, Golog said, adding that while beaten he shouted, "Long live the Dalai Lama."
Golog said he came out of prison with damaged knees, a dislocated shoulder, failing vision and broken ribs. Though frail and under constant police surveillance, Golog said he continued communicating news to journalists and activists in exile using his phone and was detained again in 2009 for four months.
"Somebody had to do it. If we are scared, our story doesn't get told," Golog said.
Filmmaker Dhondup Wangchen, who worked with Golog on the film, was arrested in March 2008 and charged with trying to split the country and sentenced to six years in prison in late 2010.
China says Tibet has historically been part of its territory since the mid-13th century, and the Communist Party has governed the Himalayan region since 1951. But many Tibetans say they were effectively independent for most of their history, and that the Chinese government wants to exploit their resource-rich region while crushing their cultural identity.