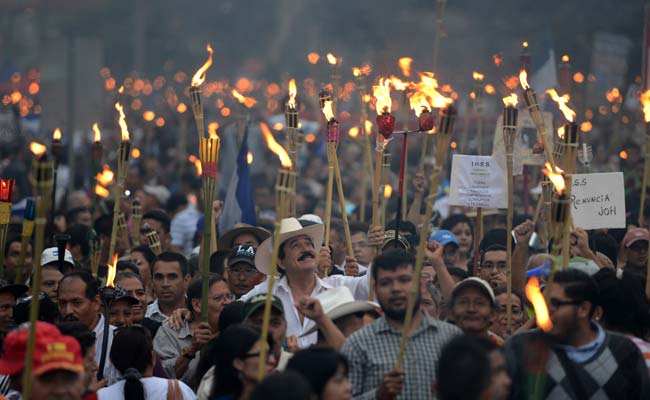 Tegucipalga:
Thousands of protesters marched through Honduras's capital on Friday demanding the resignation of President Juan Orlando Hernandez over a corruption scandal that has seen growing calls for him to quit.
A large, noisy crowd estimated at 20,000 by organizers marched half a kilometer in drizzle from a hospital in the east of the capital Tegucigalpa to the United Nations building.
Earlier this week, Hernandez admitted his conservative ruling National Party had accepted money that had been misappropriated from social security funds and proclaimed himself "outraged," pledging that investigators would "get to the bottom of all of this."
The opposition charge that the president received about $90 million of more than $300 million they say was skimmed from poverty-wracked Honduras's public health system for his 2013 election campaign.
Hernandez has denied wrongdoing and drastically played down the amount.
Speaking at the rally, opposition leader and former presidential candidate Salvador Nasrallah told reporters: "We must remove the corrupt and we must fight impunity."
"And it will fall, it will fall, the dictatorship will fall," the crowd chanted back in unison.
The protesters carried torches in honor of 2,800 patients that they say died in hospitals because of a lack of drugs - the direct result of money taken from the Honduran Social Security Institute, they allege.
Opponents of the president want a UN commission to investigate alleged government corruption.
There were similar demonstrations last week in dozens of cities nationwide demanding the president quit.