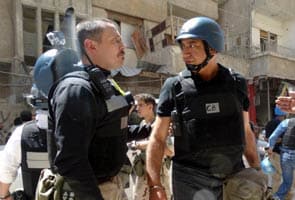 London:
Blocked by his own parliament from taking military action against Syria, British Prime Minister David Cameron today urged the United States to act or risk further chemical weapons attacks by the regime.
"(US President Barack Obama) set a very clear red line that if there was large-scale chemical weapons use something had to happen," Mr Cameron told lawmakers in the House of Commons.
"Now we know that the regime used chemical weapons on at least 14 previous occasions. I think to ask the president of the United States, having set that red line, having made that warning, to step away from it, I think that would be a very perilous suggestion to make. Because in response I think you'd see more chemical weapons attacks from the regime," Mr Cameron said.
Mr Obama has said he will punish Syrian President Bashar al-Assad for using chemical weapons but wants authorisation from the US Congress before conducting any military strikes.
Britain will not be involved after members of the House of Commons last week voted against Mr Cameron's call for action, in a historic decision that severely damaged the prime minister's authority.
But in his weekly question and answer session in the Commons on Wednesday, Cameron made clear that he still believed strikes were justified.
"If no action is taken following President Obama's red line, and if no action is taken following this appalling use of chemical weapons, you have to ask yourself what sort of Armageddon are the Syrian people going to be facing?" he said.
Mr Cameron rejected calls for a second parliamentary vote on military action, but said Britain would continue to push for a solution to the Syrian conflict.
"We must use everything we have in our power -- our diplomatic networks, our influence with other countries, our membership of all the key bodies, the G8, the G20, the UN, the EU, NATO -- we must use all that influence to bring to bear," he said.
Cameron said the world still had to take a "very tough response" to the use of chemical weapons, including aiding opposition forces.
"I accept that Britain can't be part and won't be part of any military action on that front," he said.
"But we must not in any degree give up our utter revulsion at the chemical weapons attacks that we have seen and we must press this point in every forum of which we are a member," he said.