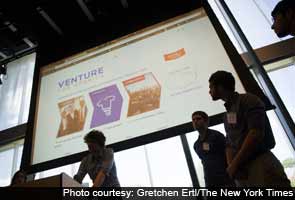 Some people might look at what Brentt Baltimore did and shake their heads in disbelief. Last year, Baltimore, then a senior majoring in economics and finance at Claremont McKenna College in California, turned down a six-figure job at a Los Angeles area hedge fund. Instead he took a $33,000-a-year position at a venture capital firm in Detroit. This, even though he has about $38,000 in student loan debt.
Baltimore, 24, is part of a small group of recent graduates who are forgoing large salaries to work for startup businesses in Detroit, Las Vegas, Cincinnati, Cleveland, New Orleans, Baltimore and Philadelphia and Providence, R.I. He chose his job with the help of Venture for America, a nonprofit organization that selects fellows to work in cities that aren't the usual magnets for young college graduates. By August, 108 fellows will be working at 70 companies as part of the two-year program.
Detroit, which is in danger of declaring bankruptcy, could use some job-creating entrepreneurship, and that is a big reason that Baltimore chose the venture capital job over the hedge fund.
"I wanted to be in a position where I could have a huge impact on the community," Baltimore said.
Part of his job at Detroit Venture Partners is to scout potential investments and lure companies to Detroit. He has also started the nonprofit Startup Effect, which teaches local eighth-graders entrepreneurship principles.
"Smart people should be building things," said Andrew Yang, 38, who started Venture for America in 2011. (Although it has ground operations in all eight cities, the program's headquarters are in a different one: New York.) "Instead, they become bankers and consultants. We need to do something about talent allocation that pulls our top minds toward these fields."
Yang said that this generation of graduates was starting to look at alternative career paths, having witnessed many traditional industries, like finance and law, contracting over the last few years.
"These are young people who have come of age in an era of institutional failure," he said. "The sense I get from talking to them is that there is some disillusionment."
He is trying to turn that disillusionment into an entrepreneurial advantage. His vision was on display last month as the program's second class, of 68 fellows, sat around small tables at Venture for America boot camp at Brown University - Yang's alma mater. At this particular session, employees from IDEO, a design consulting firm, were presenting a course on product design. The five-week boot camp also includes classes on topics like entrepreneurship, Web design and public speaking.
After the boot camp, the fellows take jobs at startup companies in industries such as e-commerce, biotechnology, finance, media and clean technology. Generally, the companies must be less than 10 years old and employ fewer than 100 people. Starting salaries are $33,000 to $38,000; pay increases and stock options are at the companies' discretion.
The fellows are receiving invaluable experience, but "they are definitely making a sacrifice," said Jeanne Markel, director of brand experience at Zappos, based in Las Vegas. She works with the Zappos founder, Tony Hsieh, on his commercial Downtown Project to revitalize the city. Hsieh pledged $1 million to Venture for America last year, and as of August the Downtown Project will employ 14 fellows.
"The salaries are commensurate with what we would pay an entry-level employee," Markel said, but "they are the best and the brightest and could easily be making six-figures right out of college." The fellows are given more responsibilities and opportunities than in a typical entry-level position, she said.
In recent years, "students have become more interested in exploring the intersection of entrepreneurship and social enterprise," said William Wright-Swadel, executive director of the career center at Duke University. "The consulting firms, the investment banks, medicine and law - those are the four dominant career paths at Ivy or Ivy-like institutions, but it's my job to diversify the fields we are offering to students," he said. In the past two years, six Duke students have joined the Venture for America program.
This year, applications to the program nearly doubled, to 550, with only 16 percent accepted. (Not all went on to join the program.) The average grade-point average of the fellows is 3.6. Next year the program plans to expand to St. Louis, Pittsburgh and New Haven, Conn.
Large corporations have ample resources to spend chasing top talent, and small startups in cities like Detroit or Cleveland often can't compete with them on campuses. That's where Venture for America comes in. It connects graduates to the local startup scene through relationships with foundations and local government, as much as Teach for America connects graduates to jobs in schools in underserved areas.
"Finance and consulting were so strong on campus" when it came to recruiting, said Kathy Cheng, who graduated from MIT last year with a degree in urban planning and economics. Cheng turned down a consulting offer in New York to join Venture for America. She now works in Detroit for Doodle Home, an online platform for designers, for half the salary she would have received in New York.
"I had interned at the consulting firm and knew that I could learn a lot of statistics, but there probably wouldn't be a lot of impact," she said. At Doodle, she said, the work is more aligned with her interests. (She wrote her senior thesis on the topic of entrepreneurial ecosystems.)
"My job has given me the opportunity not just to analyze, but to really learn how to build a business," she said. "I was brought on to do Web analytics, but I dip my toes into sales and marketing."
Fernando Prieto, the president of Doodle Home and Cheng's boss, said: "Kathy went to MIT and she is from New Jersey originally. She would have never thought of Detroit if she hadn't come through Venture for America."
Dan Gilbert, founder of Quicken Loans, which has operations in Detroit and Cleveland, pledged $1.5 million to Venture for America. (Gilbert has also invested more than $1 billion in buildings, renovations and other improvements to help revitalize Detroit.) "Getting people who were at the top of their class is not an opportunity we might have gotten if we just woke up one day and said we have job openings," he said.
In August, 14 fellows will join eight others at companies that operate under the Quicken umbrella, including Doodle Home and Detroit Venture Partners.
Given the lower salaries, the program is an easier choice for those who have little or no student debt. "It would be really hard for me to have to put myself in that position if I had loans," said Shilpi Kumar, a 2013 Duke graduate who will begin working this summer for the Downtown Project in Las Vegas. Kumar turned down a consulting position at Deloitte.
"The topic of debt and money comes up," said Benjamin Goldstein, who graduated from Princeton this year without student loan debt. "If you come out of school with $50,000 in debt, you need to take a high-paying job. What I would like to see in the future is for Venture for America to allow more people to join it." Goldstein will begin work this summer at a business incubator in Providence.
Still, about 40 percent of the 2012 fellows had loans, although none had more than $60,000 in debt, according to a survey administered by one of the program's fellows. "It's possible they have to make a lifestyle sacrifice to join the program," Yang said.
Some participants are drawn to Venture for America because it provides a built-in social system and structure. Many live close to one another, sometimes in the same apartment complex.
In Las Vegas, the seven current fellows all live in housing owned by Hsieh. In Providence, five fellows live together in a house. In Detroit, Baltimore lives with a roommate and pays $700 a month, which is on the high end of what fellows pay, according to the program. (The average housing costs are much lower in the participating cities than in places like New York and San Francisco.) Some say the experience of earning less is a good life skill. "I didn't think it would be so bad to learn how to live simply" and pick up some good financial habits, Cheng said.
Some fellows see their salary as providing a decent living for a single person in a place where the cost of living is reasonable.
"I've never had this much money," said Stella Safari, a 2013 graduate of Dartmouth, who is moving to Cincinnati in August to work at myActions, a social networking site. She will live with two other program fellows and pay $550 a month in rent. "My family never made a lot," said Safari, who emigrated from Congo in 2000.
Yang said she hoped the fellows would put down roots in the cities where they initially worked, perhaps starting their own businesses or working for other local companies. That, he said, would create a ripple effect of entrepreneurship, economic revitalization and job creation.
But whether fellows will become local and successful entrepreneurs themselves - or even stay beyond their 25th birthdays - is hard to say. They are all in the post-college peripatetic stage of life, where a few years can seem like a long time.
"I'm still 23, so I'm not ready to commit to a place," said Cheng, although she could see herself starting a business in Detroit.
"I could stay a third or fourth year in Providence, but when you start on the scale of five to 10 years, I am interested in doing a variety of things," said Ethan Carlson, who graduated from Yale last year with a degree in mechanical engineering. Carlson turned down an offer at the PA Consulting Group to join Venture for America and work at VCharge, an energy software company in Providence, for half the salary.
The program does offer some incentives. For example, there is a $100,000 prize, determined by Venture for America, for one to five fellows who have the strongest performance throughout their fellowship and want to start their own companies. (While the business doesn't have to be in a Venture for America city, "it will be a factor in the committee's decision," Yang said.)
Venture for America certainly isn't the only career path where young people can make a difference while working for a company. Deloitte, for example, has offices in many of the Venture for America cities and runs a $20-million-a-year pro bono project aimed at nonprofits.
"We go out and source 150 of the most compelling local and national projects and staff it just like we would a paid project, so the pro bono project becomes their full-time job," said Evan Hochberg, national director of community engagement at Deloitte. "Giving back is not just a nights-and-weekend activity."
But Venture for America is tapping into a generational ethos that views the 20s as an age to experiment and to pick a passion over a big paycheck. Kumar said her calculus in taking the position at the Downtown Project in Las Vegas was "What can I be most fulfilled by?"
"There's a different framework," she said, "for what a good job is these days."
© 2013, The New York Times News Service