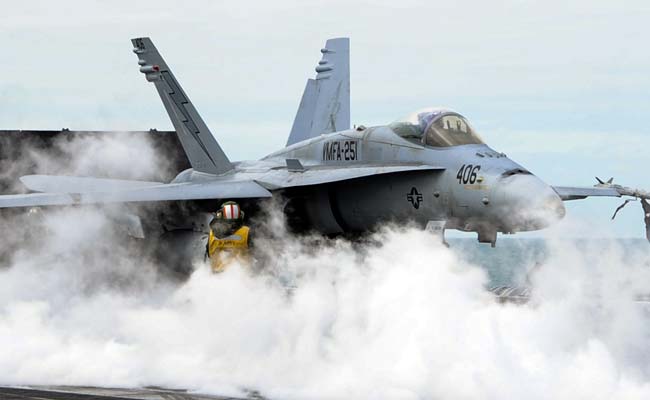 U.S. Marines and Japanese authorities were searching early Thursday off the coast of Japan for missing Marines after a mishap between a fighter jet and plane used both for transporting troops and refueling, Marine officials said.
The incident occurred after the planes took off from Marine Corps Air Station Iwakuni in Japan, Marine Corps officials said in a statement. The aircraft - an F/A-18 Hornet and a KC-130 Hercules - were involved in "regularly scheduled training" at the time, and Japanese authorities immediately launched search-and-rescue aircraft afterward. The fate of the planes and service members aboard was not immediately clear.
"The circumstances of the mishap are currently under investigation," Marine officials said in a statement. "There is no additional information available at this time."
It was not clear immediately clear whether the aircraft collided while crossing in the air, or if the KC-130 was in the process of refueling the Hornet when the incident occurred. Aerial refueling with the KC-130 calls for another aircraft to pull slightly below and behind the tanker plane, with hoses extended from 3,600-gallon stainless steel tanks on the KC-130′s wings to one or two other aircraft simultaneously.
The KC-130 also can be used to transport ground troops. In July 2017, a KC-130T crashed in Mississippi while flying from Stewart Air National Guard Base in New York to Naval Air Facility El Centro in California, killing all 16 Marines and prompting the military to ground many other C-130s afterward.
(Except for the headline, this story has not been edited by NDTV staff and is published from a syndicated feed.)