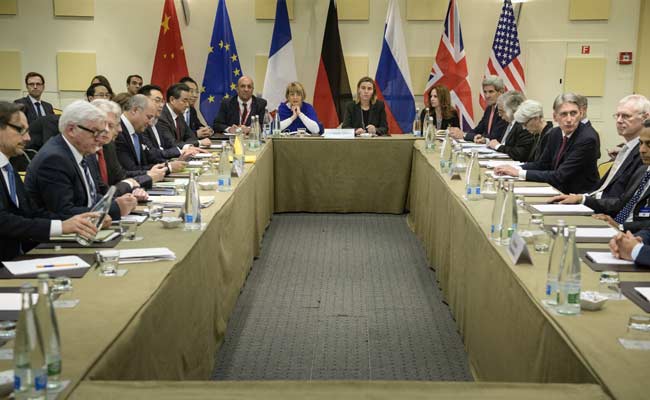 Lausanne:
Russia and Iran's foreign ministers claimed a breakthrough, today, in talks on a framework deal curtailing Tehran's nuclear programme, but the US said not all issues had been agreed.

"One can say with relative certainty that we at the minister level have reached an agreement in principle on all key aspects of the final settlement of this issue," Russian media quoted Sergei Lavrov as saying at talks in Switzerland.

This came after Russia's top diplomat and the foreign ministers of five other major powers and Iran missed a midnight deadline to agree the main outlines of what they hope will be an historic accord but continued working through the night.


The powers hope this final agreement, due to be finalised by June 30, will see Iran scale down its nuclear programme in order to prevent Tehran developing nuclear weapons under the guise of its civilian programme.
The stakes are high, with fears that failure to reach a deal may set the United States and Israel on a road to military action to thwart Iran's nuclear drive, which Tehran says is purely peaceful.
The "agreement in principle... will be put on paper in the coming hours or perhaps within one day," Lavrov said, quoted by Ria Novosti after a lengthy day of talks in Lausanne.
Iranian Foreign Minister Mohammad Javad Zarif said he hoped to complete later today the framework nuclear agreement, allowing the process of drafting a final accord by the June 30 deadline to begin.
"We have accomplished quite a bit but people needed to get some rest and start over early in the morning. I hope that we can finalise the work on Wednesday and hopefully start the process of drafting (a final accord)", Zarif told reporters.
A senior US official however said there was not yet full agreement on key points of the framework accord.
"All issues have not been agreed," a senior US official told AFP.
A Western diplomat said there was no framework agreement yet while a spokeswoman for the European Union, which is chairing the talks, said only that the ministerial meeting was over.
"Talks still ongoing with Political Directors to reconvene early (Wednesday)," Catherine Rey, the spokeswoman, said on Twitter.
French Foreign Minister Laurent Fabius meanwhile followed his Chinese counterpart Wang Yi in leaving the negotiations, with Fabius's office saying he would return "as soon as it is useful".
US Secretary of State John Kerry, who arrived in Lausanne last Wednesday, remained however together with British Foreign Secretary Philip Hammond, Germany's Frank-Walter Steinmeier and EU foreign policy chief Federica Mogherini.
Low on detail?
Under the final accord, the powers want Iran to scale back its nuclear programme to give the world ample notice of any dash to make the bomb by extending the so-called "breakout" time.
In return, the Islamic republic is demanding the lifting of sanctions that have strangled its economy.
But the question is how much detail will be in the framework accord that Iran and the six powers - the US, China, Russia, Britain, France and Germany - want to nail down.
If it falls short of firm commitments by Iran then US President Barack Obama will find it hard to fend off attempts by his Republican opponents to pass fresh sanctions on Tehran.
Iran's negotiators are also under pressure from their own domestic hardliners not to give too much away and for President Hassan Rouhani to deliver on his promises to secure the lifting of sanctions.
Fresh US sanctions could therefore torpedo the whole negotiating process that was launched after Rouhani became president in 2013.
Republicans fear that since some of its nuclear infrastructure will likely stay intact, Iran will still be able to get the bomb - a concern shared by Israeli Prime Minister Benjamin Netanyahu, whose country is widely assumed to have nuclear weapons itself.
"The greatest threat to our security and our future was and remains Iran's attempt to be armed with nuclear weapons. The agreement being formulated in Lausanne paves the way to that goal," Netanyahu told parliament on Tuesday.
Saudi Arabia, which has led an Arab coalition bombing Iran-backed rebels in Yemen in recent days, is also alarmed by what is unfolding in Lausanne.
Other areas of the mooted deal, including the future size of Iran's uranium enrichment capacity - a process for making nuclear fuel but also the core of an atomic bomb - also appear to have been tentatively sewn up.
But the two sides still appear to be discussing other areas, including what to do with Iran's stockpiles of nuclear material, and how long the deal should last.