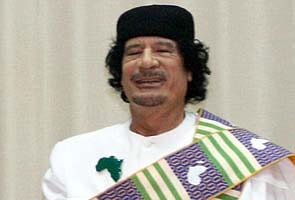 Marseille:
Two men and a woman appeared in a French court on Monday in a case over a Cannes Film Festival high-end prostitution ring that had ties to a son of slain Libyan dictator Moammer Gaddafi.
Seven men and a woman went on trial in the southern port city of Marseille, though the five chief figures are on the run and are being tried in absentia.
They include Elie Nahas, a Lebanese who claimed to run a modelling agency employing young women recruited in South America, France and eastern Europe.
The three who turned up in court were: an alleged escort girl from Cannes, Sabrina Samari, who has admitted to procuring women; a Venezuelan named Felix Farias who worked for a branch of Nahas's agency; and a Lebanese driver, Antoine El Khoury.
Nahas is accused of organising a birthday bash for one of Gaddafi's sons Mutassim in 2004 costing $1.5 million (1.1 million euros) with several stars and about 20 models in attendance.
Mutassim Gaddafi was killed with his father on October 20 last year.
Investigators never questioned the son.
Farias also caused a scandal in 2007 when he turned up at Paris's Charles de Gaulle airport with eight young women, one of whom was a minor, to attend the Cannes Film Festival. They were refused entry.
They were due to stay on a 136-metre-long luxury yacht, La Savarona, which had been rented for 350,000 euros a week.
Wiretapped telephone conversations from the time showed the involvement of four Lebanese nationals, a Venezuelan and two escort girls from Cannes in an alleged prostitution ring, whose clients were rich men from the Middle East.
"Those really responsible are absent or have fled," said Franck De Vita, the lawyer for Samari.
According to Patrick Rizzo, lawyer for an anti-procuring charity that is a civil party to the trial, it was "the political context" in 2007 and 2008 that hampered the legal investigation.
"Colonel Gaddafi was received at the Elysee (French presidential palace) at the time, he was France's good friend," Mr Rizzo said.
"All this context did not favour international investigations."
The inquiry established that young women of various nationalities including models, beauty queens and escort girls, were recruited, especially during the Cannes film festival for clients from the Middle East, Saudi Arabia and Kuwait ready to pay thousands of dollars for their services.