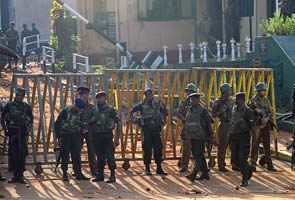 Colombo:
A bullet-riddled taxi and a bloodstained road were mute testimony on Saturday to Sri Lanka's worst prison riot in three decades in which 27 people died and 43 were injured in an overnight gunbattle.
The gunfight at Colombo's maximum security Welikada prison between guards and prisoners erupted late on Friday during a police search for drugs and smuggled mobile phones.
It sounded like "there was a mini-war at the prison", said nearby resident Mahinda Perera.
The sounds of shooting caused panic in Colombo, which is still recovering from decades of ethnic war that ended in 2009.
Murderers and other convicts serving life terms fired automatic assault rifles that they grabbed from a prison armoury which they broke into after overpowering 25 guards.
Bare-bodied inmates climbed to the roof and attacked police commandos ringing the penitentiary. "The police should have known there would be trouble -- they were not prepared," a prison guard said on condition of anonymity.
Sri Lanka's elite police Special Task Force swapped fire with inmates for several hours until calm was restored early on Saturday, leaving bodies of the dead -- mostly prisoners -- strewn around the sprawling premises.
Army troops, who were later called in to quell the riot, used armoured personnel carriers to enter the prison as convicts fired at them.
"Bullets were flying all over," an army officer, who asked to remain unnamed, told AFP.
"The area is now calm," army spokesman Brigadier Ruwan Wanigasooriya told AFP on Saturday.
Most of the dead were believed to be inmates. But officials said one guard may have died in the violence -- the worst prison riot since 1983 when over 50 ethnic Tamil prisoners were massacred at the same jail by majority Sinhalese prisoners during anti-Tamil unrest.
The head of the Special Task Force deputy inspector-general R. M. Ranawana had just told a radio station his forces had seized a large haul of phones before he was hit by a bullet.
Ranawana was in intensive care on Saturday recovering from surgery, hospital director Anil Jasinghe told AFP.
A news photographer also suffered a bullet wound while capturing the dramatic scene, which evoked memories of gunbattles in the capital of 600,000 people at the height of fighting with Tamil rebels.
Authorities had closed the road outside the prison to avert civilian casualties during the riot. When the road reopened on Saturday, a blood-splattered three-wheel taxi stood outside the main gates.
Police said half a dozen convicts had hijacked the vehicle to make a getaway but were killed.
Prisons minister Chandrasiri Gajadeera said the prison headquarters inside the grounds suffered extensive damage. Meanwhile Colombo police chief Anura Senanayake said the decision to send in troops saved lives.
"There could have been a bigger disaster if the inmates had got hold of the bigger armoury at the prison. By killing the prisoners who were armed, we prevented a much bigger disaster," he said.
In January another riot had broken out at the prison, also during a drug raid, which had left some 25 people wounded.