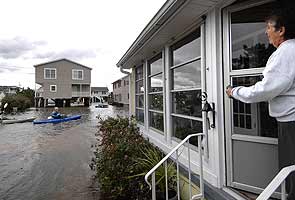 New York:
A week after superstorm Sandy battered the US East Coast, a large number of Indians residing in New York and New Jersey, the two worst-hit states, continue to struggle to get back on their feet, with several of them saying they had never experienced such devastation before.
Like the millions of other residents in the region, recovery from the destruction caused by Sandy has been painfully slow for the Indians, who make up a chunk of the New York and New Jersey population.
Several of them live in areas where power has not yet been restored and there appears to be little hope for any relief soon.
New Jersey resident Mansi Agarwal, who works as a software engineer at Google's Manhattan office, has been without power since the storm made landfall in New Jersey last Monday.
Mother of seven-month old twin daughters, Ms Agarwal said she moved to a friend's place after waiting in vain for a couple of days for power to be restored in her building.
Ms Agarwal said she had not expected such severe damage from Sandy as last year's storm Irene, which had also threatened to cause major destruction, had eventually not had much impact in the New York region.
"I had not expected the power outage to last this long.
No one had thought Sandy would cause destruction of such magnitude. It has been a terrible and frustrating experience.
A feeling of desperation is now setting in among people who want to return to their normal lives," she said.
Like thousands of other New Jersey residents, Ms Agarwal has not been able to go to work in New York for about a week since the public transport system that connects New Jersey to Manhattan has remained suspended in the aftermath of the storm.
Indians living in New Jersey use the PATH commuter trains to get to work in New York.
While the subways in New York are gradually resuming operations, the PATH service, which forms the primary transit link between Manhattan and Jersey, remains suspended.
New Jersey Governor Chris Christie has said the PATH trains, which carry 244,000 passengers each weekday, would be out of service for at least seven to 10 days due to widespread flooding in tunnels and multiple stations, as well as power outages that have shut down signals and switches.
Sangeeta Singh, as Associate Director at an independent school in New York, says she has never seen such devastation caused by a natural disaster in the past 27 years that she has been in the US.
The storm "has been totally devastating. It is an act of mother nature that has literally taken the region by storm," she said.
Ms Singh was among the few fortunate residents who did not have to go days without power but her home suffered significant damage when power cables fell on her roof, triggering fears of fire.
The region is now facing severe gas shortage, with Singh describing scenes outside the lone gas station in her area as "chaotic."
People are forced to wait for nearly three hours to fill their gas containers at stations where lines of cars and residents stretch for 6-7 miles, she said.
The acute gas shortage has prompted Mr Christie to sign an executive order to ration gasoline in 12 counties throughout New Jersey.
Under the rationing rules, drivers whose license plates end in an odd number may only buy gas on odd-numbered days of the month and those with even-numbered plates will be eligible to buy gas on even-numbered days.
Singh said grocery stores and supermarkets are running out of essential food supplies as trucks have not been able to cross into the city for days due to flooding.
She said several stores are being forced to throw away frozen food products, which have gone bad due to the prolonged power outages.
Ms Singh, however, lauded the recovery efforts undertaken by the state and federal government, saying the damage by the storm could have been much worse had the local authorities not put in place necessary arrangements to deal with it.
"The government has done a phenomenal job in managing the post-storm crisis. While no one had expected Sandy to cause such damage, things could have been worse if the authorities had been totally unprepared," she said.
Kalin Agarwal, who works in a financial services firm in Connecticut, too credited the local authorities, particularly the police, for their efforts to prevent looting at stores and gas stations and in directing traffic.
A US citizen, Mr Agarwal further said he intends to vote in the November 6 Presidential elections but added that voter turnout at polling stations could be impacted as people remain preoccupied with getting their life back in order in the storm's aftermath.
Mr Agarwal also pointed out that it was heartening to see the help and support people offered to those in need in the wake of the storm.
"One wishes that no one goes through such damage and devastation again. The experience will make people appreciate and understand the hardships others go through in natural disasters much severe than Sandy," Mr Agarwal said.