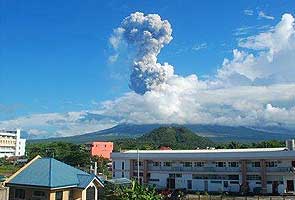 Manila:
Five people are feared dead after one of the Philippines' most active volcanoes spewed a giant ash cloud on Tuesday, with foreign tourists on its slopes during the eruption, authorities said.
National Disaster Rick Reduction and Management Council chief Eduardo del Rosario said local officials had reported that three people had been killed and four were injured, although this had yet to be confirmed.
"
Five killed and seven are injured, that is the latest report," del Rosario said. "We do not have the identity of those killed or injured, whether they are foreigners or locals."
Rescuers would be dispatched shortly to check on reports about the tourists, said Joey Salceda, governor of Albay province where the 2,460-metre (8,070-foot) Mayon is located.
"There was a tour guide and four tourists who were reported on the volcano at the time," he said in an interview aired on ABS-CBN television.
Local radio reports said a tour agency had asked for help to rescue the group.
Chief state seismologist Renato Solidum said people living around Mount Mayon did not need to evacuate, describing the event as a "minor steam-driven explosion" of ash deposits at the crater mouth making contact with rain.
Mayon spewed a thick column of ash 500 metres (1,600 feet) into the air, witnesses told AFP.
"There is no magma activity. Essentially what happened today is a normal process of a steam-driven explosion," Solidum told the television station.
Residents in towns around the picturesque volcano famous for its near-perfect cone said they were surprised by the sudden activity, which came as many were having breakfast.
"It was so sudden that many of us panicked," Jun Marana, a 46-year-old bus driver and father of two, told AFP by telephone.
"When we stepped out we saw this huge column against the blue sky."
Marana said the ash column was dispersed by winds after about an hour, but said he was not taking his chances and was prepared to leave his home anytime.
Mayon, about 330 kilometres (200 miles) southeast of Manila, has erupted 48 times in recorded history.
In 1814, more than 1,200 people were killed when lava flows buried the town of Cagsawa.
In December 2009 tens of thousands of villagers were displaced when Mayon spewed ash and lava.
The volcano also erupted in August 2006. There were no direct deaths caused by the explosion, but the following December a passing typhoon unleashed an avalanche of volcanic mud from its slopes that killed 1,000 people.