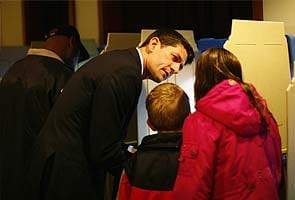 Washington:
Paul Ryan may have taken a punch. But Tuesday night was far from a definitive blow for Mitt Romney's hard-driving presidential running mate, a veteran of Congress who according to one admirer is "just getting started."
History hasn't been kind to losing vice presidential candidates. Only two have gone on to become presidents themselves. The last two failed running mates were Sarah Palin and John Edwards - one went on to a reality television show, the other's personal life turned out to be fit for a soap opera.
No one expects Ryan to have a similar fate. In fact, Ryan actually won when the dust settled. Still only 42, he was easily reelected by voters in his southern Wisconsin district to represent them in Congress for the eighth time.
Ryan returns to the House of Representatives a larger figure. And even if 2016 feels distant right now, he will be quickly and insistently prodded about his own presidential ambitions.
Back to Washington, stature enhanced
When Romney picked him as his running mate in August, Ryan was already a leading member of Congress and a darling of conservative columnists and activists in Washington for his fiscal conservatism. The presidential race introduced him to thousands of voters, hundreds of state leaders, and the party's most generous donors.
His re-entry into daily politics in Washington comes as Congress enters a furious period of negotiations over averting a "fiscal cliff" - a series of expiring tax cuts and pending spending cuts that could push the United States back into recession if Congress cannot reach a deal by January 1.
Now, Ryan's status as House Budget committee chairman will be joined with a new political celebrity, giving the author of the Republicans' fiscal plans an even greater hand in directing the debate.
At the time of his selection by Romney, Ryan was a familiar figure to only 35 percent of people, according to a Reuters/Ipsos poll. Today, he is a household name.
Ryan's supporters say the campaign enhanced Ryan's stature. Speaking days before the election, Representative Sean Duffy recalled a warm reception from Democrats when Ryan returned to the chamber's floor this fall.
They say that the campaign reinforced a reputation for truth-telling and open-mindedness, pointing to his speech on Medicare at a convention for the AARP, a lobbying group for older Americans which has backed Obama administration proposals, as a sign of his political courage.
For Democrats and independents, it may be difficult to see Ryan outside the strongly partisan light that a presidential campaign inevitably shines on politicians.
Ryan's acceptance speech at the Republican National Convention in August, for instance, left liberals irate. Renowned among conservatives for intellectual honesty, critics said Ryan served up political fiction.
"I can't think of a single bipartisan thing he's ever done," said Representative Barney Frank, a Massachusetts Democrat.
Leader of his generation
Ryan had been known as a Republican "young gun" and the campaign cemented his reputation as a leader of his generation in the party.
Romney's loss is bound to provoke soul-searching among Republicans who lost a presidential election despite Obama's vulnerability amid a weak economy. In theory, Ryan is positioned like few other leaders to step into the void.
Yet his place in Congress could prove as much a stumbling block as a platform. It may be difficult for Ryan to assume the leadership of a party that so often bristles with mistrust of Washington's influence.
That may not stop some Republicans from praising Ryan as revolutionary, as Ohio Governor John Kasich did at a recent rally for the losing campaign.
"I've been referring to Paul Ryan as the Paul Revere of the next generation," Kasich said, referring to the American Revolutionary War hero who warned Colonial forces of impending threats from the British.
"I'll tell you he's just getting started," he added.
Whatever he does in the longer term, Ryan may be found sitting extremely quietly in a tree in Wisconsin some time in the coming weeks.
Since last Christmas when he bought his daughter Liza a Remington rifle, the congressman has been preparing to take his oldest child, now 10, on her first deer hunt.
In Green Bay, Wisconsin last week, Ryan told a warehouse full of supporters that he couldn't wait to sit in a deer stand, knowing that Mitt Romney would be inaugurated as president of the United States in January.
After Tuesday's vote, he won't have that to relish. But he still has some hunting to do.
© Thomson Reuters 2012