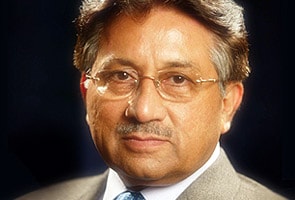 London:
Pakistan may be on the brink of a military coup, the country's former military ruler Parvez Musharraf has warned, amidst reports of the powerful army pressing for a shakeup in the nation's civilian setup.
Musharraf, who is striving to stage a political comeback, has also demanded that the military in Pakistan should be given a defined role in the constitution, but not given the power to overthrow governments.
Musharraf, who toppled the civilian government of Nawaz Sharif in a bloodless coup in 1999, said the current chief General Ashfaq Parvez Kayani could be forced to intervene against the civilian government led by President Asif Ali Zardari because of rampant corruption and nepotism.
The 67-year-old former military ruler made these remarks at a debating forum here last night and his comments assume significance in the backdrop of media reports of a crisis meeting this week between Pakistan's Army chief Kayani, Prime Minister Yusuf Raza Gilani and President Zardari, where media reports said the powerful General had demanded a shake up in the civilian set up.
"Well, you see the photographs of the meeting of the General, President and the Prime Minister and I can assure you that they were not discussing the weather," the former General told a Q&A at the forum.
"There was a serious discussion of some kind or the other and certainly at this moment all kinds of pressure must be on this Army chief," Musharraf, who had hand-picked Kayani, said.
Musharraf, who would officially announce his political comeback tomorrow by launching his party here, recalled that there were similar pressures on him prior to his sacking Nawaz Sharif.
"That year Pakistan was going down and a number of politicians, women and men, came to me telling me 'Why are you not acting?'" Musharraf told the forum.
According to him, the recipe for Pakistan was to give the Army a constitutional role in governing the nation, which has spent more than half of its independent existence under the jackboots.
"If you want stability in Pakistan, checks and balances in the democratic structure, then the Army ought to have some role," he said.