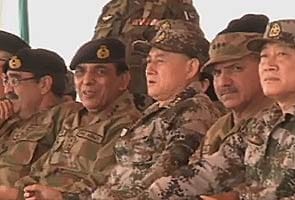 Islamabad:
Pakistan Army Chief General Ashfaq Pervez Kayani said on Thursday that Pakistan has done its utmost to eliminate the threat to China posed by militants operating in the border areas of Pakistan and Afghanistan.
"Those elements of ETIM (East Turkestan Islamic Movement) who are operating in the border areas of Pakistan and Afghanistan, even there we had a very close cooperation, and we do exchange intelligence and we have done our utmost to eliminate this threat of ETIM and other extremists for China," said General Kayani in Jhelum, Punjab province, where the Pakistan and Chinese armies have been taking part in joint military exercises.
In the past, China has blamed unrest in the west of the country on militants groups such as the separatist East Turkistan Islamic Movement (ETIM).
"To hold the joint training or exercises on the subject of counter-terrorism between China's and Pakistan's armed forces will help us to fight against the regional terrorist forces and deepen the cooperation between us and promote peace and security in the region," said General Hou Shusen, Deputy Chief of General Staff of the Chinese Army.
The two-week war games started on November 14 amid speculation over whether China will step in to fill the economic, military and diplomatic void if Pakistan's relationship with the US further deteriorated.
"I think Pakistan realised that it was getting isolated as a result of this so it was better to get somewhat more close to China to offset that disadvantage," said defence analyst, Talat Masood, a retired general.
"But this does not mean that China is by any means a total substitute to its relationship with the US or the Western world, or even it means that it can do without its having a normalised relationship with India, so I think it's not a zero-sum game," he added.