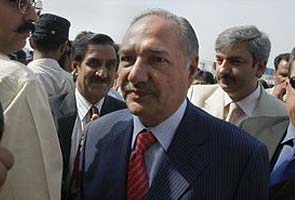 Islamabad:
Pakistan today threatened to pull back its troops from the border with Afghanistan, as Defence Minister Chaudhry Ahmad Mukhtar said his country could not afford to keep forces deployed there following the suspension of US military assistance.
Reacting to the Obama Administration's decision to suspend USD 800 million aid to Pakistan, Mr Mukhtar said this would force the country to pull back troops from nearly 1,100 check posts set up along the Pakistan-Afghanistan border. The check post was set up as part of understanding with Washington to beef up security in the restive tribal belt.
The minister disclosed that USD 300 million of the suspended aid was specifically meant for troops serving in this troubled region.
Claiming that the proposed US move would sabotage efforts against the Taliban and al-Qaeda in the region, he said "his money (US military aid) is not for fighting the war, but is money that we have spent already".
Mr Mukhtar told a Pakistan-based news channel that Pakistan could not afford to keep its military out in the mountains or in border areas for a long period of time.
"The next step would be that the government or the armed forces will pull back the forces from the border areas," he said.
On recent spurt of claims by Kabul and Islamabad on stepped up cross-border militant ambushes, Mr Mukhtar warned that if theses raids continued there could be cross-border fighting.
Referring to the controversy over Shamsi airbase, reportedly used by US drones, Mr Mukhtar said the US, through the UAE, had been allowed the use of the airbase for non-lethal weaponry, such as unarmed drones, and as a logistics support site.
"The understanding was that the drones would fly from Shamsi base but only for surveillance. They were not supposed to be lethal and the next thing we knew they were using it for military attacks," he said.
Mr Mukhtar said this problem could be resolved if the US and Pakistan came to some "arrangement".
He said the Pakistan government has asked American military trainers to leave the country because they were seen to be connected with Raymond Davis, a CIA contractor who was arrested earlier this year in Lahore after he shot and killed two armed Pakistani men.
Mr Mukhtar said the government had asked the American trainers to leave because they "broke the rules".
Responding to the American assertion that al-Qaeda chief Ayman al-Zawahiri was in Pakistans tribal areas, Mr Mukhtar said hoped that the US would not act on its own like the May 2 raid against Osama bin Laden in the garrison city of Abbottabad.
"This time round, we hope the Americans will work with the Pakistanis and share their intelligence," he said.
This falls in line with the request by the chief military spokesman for the US to share information with Pakistan on terrorist leaders believed to be in the country.