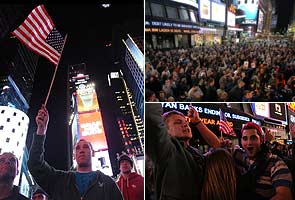 Washington:
In the midnight darkness, the crowds gathered, chanting and cheering, waving American flags, outside the front gates of the White House. In Times Square, tourists poured out of nearby hotels and into the streets to celebrate with strangers.
In the shadow of the World Trade Center site, as the news of Osama bin Laden's killing by American special forces spread, a police car drove north on Church Street blaring the sound of bagpipes from open windows. Officers raised clenched fists in the air.
"I don't know if it will make us safer, but it definitely sends a message to terrorists worldwide," said Stacey Betsalel, standing in Times Square with her husband, exchanging high fives. "They will be caught and they will have to pay for their actions. You can't mess with the United States for very long and get away with it."
President Obama's stunning announcement Sunday night that the terrorist who had eluded capture for almost 10 years drew an outpouring of emotion from political figures and citizens alike.
"This momentous achievement marks a victory for America, for people who seek peace around the world, and for all those who lost loved ones on September 11, 2001," said former President George W. Bush in a statement. "The fight against terror goes on, but tonight America has sent an unmistakable message: No matter how long it takes, justice will be done."
Mayor Michael R. Bloomberg, whose city bore the brunt of the 9/11 attack, said in a statement: "The killing of Osama bin Laden does not lessen the suffering that New Yorkers and Americans experienced at his hands, but it is a critically important victory for our nation -- and a tribute to the millions of men and women in our armed forces and elsewhere who have fought so hard for our nation.
"New Yorkers have waited nearly 10 years for this news. It is my hope that it will bring some closure and comfort to all those who lost loved ones on September 11, 2001."
In Westchester, Harry Waizer, a World Trade Center survivor, paused nearly a minute before he began to speak when reached by phone.
"If this means there is one less death in the future, then I'm glad for that," said Mr. Waizer, who was in an elevator riding to work when the plane struck the building. He made it down the stairs, but suffered third-degree burns.
"But I just can't find it in me to be glad one more person is dead, even if it is Osama bin Laden."
Asked whether he felt any closure, Mr. Waizer said: "I've said for years I didn't think there would be, but I'll probably need to think about that more, now that it actually happened."
"You know, the dead are still dead," he added. "So in that sense, there is no such thing as closure."
He expected the reaction from surviving families to be varied. "Many of them will be grateful he has finally been brought to justice," Mr. Waizer said. "But many of them will feel that whatever the justice of this, it won't bring back the people they lost."
In Lower Manhattan, near the site of the World Trade Center, some people felt drawn to the spot where almost 3,000 people lost their lives on Sept. 11, 2001. Three young men said they had traveled south from 19th Street when they heard the news.
"We decided to come down here because it means so much to New Yorkers," said Alejo Cabranes, 25. "We figured it was more important to come down here rather than hear what the president was going to say on TV."
A white sedan drove by along Church Street with two small American flags attached to the hood.
In Times Square, the mood on the street was more jubilant.
A crowd of about 100 people stood in Times Square, using cellphones to snap pictures of the news ABC news bulletin scrolling high above Broadway. "Al Qaeda's Osama bin Laden Killed," it read.
"I think we need to celebrate," said Jill Burdo, a tourist from Minneapolis who came out of her Times Square hotel room. "Who knows what tomorrow's going to bring."