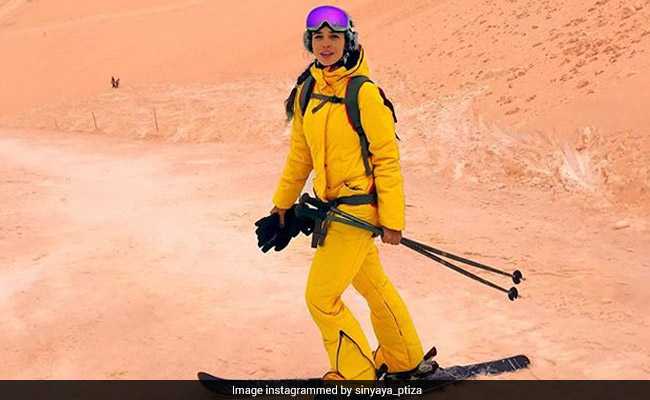 New Delhi:
Skiers encountered orange snow in parts of
Eastern Europe
- Russia, Bulgaria, Ukraine, Romania and Moldova - over the weekend. Bewildered, the skiers took to social media, and tweeted pictures of the mysterious orange-tinted snow. Meteorologists, however, have said that the phenomenon occurs once in five years. They also noted that unlike previous occurrences, the concentrations of sand are much higher this time but there's nothing to worry. Eyewitnesses jokingly tweeted that skiing on orange snow gave them a feeling of "skiing on Mars".
One of the users from Ukraine tweeted, "It's snowing orange/yellow snow here and people are freaking out!"
It's snowing orange/yellow snow here and people are freaking out! pic.twitter.com/MAL5bRFNAa

- Caleb Suko (@sukofamily) March 23, 2018
Here's the reason behind the mysterious orange snow:
Last week, a massive sandstorm hit northern Africa's Sahara Desert, leaving sand soaring all the way over to Eastern Europe. There, it got mixed with the rain and snow and turned the white snow into an orange and yellow mix. Meteorologists explain that strong winds carried sand from the Sahara desert in North Africa to Eastern Europe and turned it into orange snow. They also said that this phenomenon occurs once in every five years.
NASA's Terra satellite was able to capture some of this dust over portions of eastern Europe on Friday.
Steven Keates, a meteorologist with the UK's National Weather Service, told the Independent, "Looking at satellite imagery from [NASA], it shows a lot of sand and dust in the atmosphere drifting across the Mediterranean."
The Saharan dust also engulfed the Greek island of Crete on Thursday giving the air an orange hue.
A financial blogger compared the orange tone in the atmosphere to a scene from the sci-fi movie
Blade Runner 2049
. "Crete turns ORANGE after it's covered in Saharan dust and looks just like Blade Runner 2049 #Greece," the tweet read.
Crete turns ORANGE after it's covered in Saharan dust and looks just like Blade Runner 2049 #Greecepic.twitter.com/FJb49xgp98

- Russian Market (@russian_market) March 25, 2018