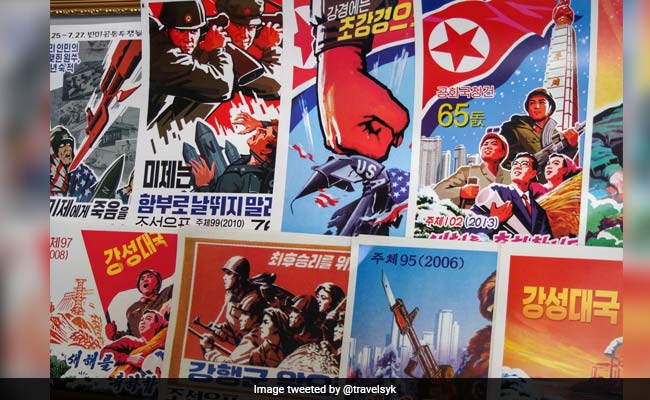 North Korea started its official "Struggle Against U.S. Imperialism" month by releasing two new postage stamps.
Surprise! They are not exactly a stars and stripes-spangled spectacular. Instead, the stamps offer some grim images predicting the promised annihilation of America. In one, a fist crushes an American missile, and a flag explodes in tatters. In the other, a hand holds a gun and eight missiles point toward a building that looks suspiciously like the U.S. Capitol.
The new offerings are part of a month of massive celebrations, including a gigantic anti-America rally where people carried placards reading "American imperialists are the war aggressor" and "Defend!" Pyongyang's official Korean Central News Agency issued a statement calling on the world to stand up against "the fatty monster US imperialists" and calling the U.S. "a paper tiger easy to be crushed and set on fire." The month commemorates the outbreak of the Korean War.
It's not the first time. North Korea has a rich tradition of issuing stamps about the American enemy, dating back to the 1960s. As Quartz explained, "North Korea has issued hundreds of politically-themed stamps since 1946, and graphic anti-American motifs began appearing in the 1960s."
One of the country's earliest offerings showed a young Kim Il Sung in front of a large South Korean flag. Others portrayed workers, soldiers and Soviet friendship. Others celebrated notable DPRK buildings, local sports heroes and popular animals and plants.
Among the anti-American highlights? A 1969 stamp of Richard Nixon speared by some fountain pens, aptly titled "International Conference of Journalists Against U.S. Imperialism." A 1975 beauty showing a muscular North Korean punching a wimpy American soldier. "Yankee bastard" is splayed across the field in Korean.
Others feature, according to Quartz, tributes to Kim Jong Il, Disney characters and many, many options honoring the late Princess Diana.
North Korea has always had a soft spot for philately. According to Stamp Journal, there's a museum dedicated to the craft in Pyongyang. The country's Korean Stamp Company joined the Federation International de Philatelie in 1965. Its headquarters are situated near one of the best hotels in the country's capital, making it easy to access for collectors.
The KSC has two main offerings: stamps for domestic use (printed on cheap, thin paper) and those designed to appeal to international collectors. The second are rarely used by the country's residents.
The stamps are popular among international stamp collectors who "get a kick out of danger," though sanctions make it hard (not impossible) for the philately-inclined. One Dutch collector was imprisoned on espionage charges for trying to buy stamps while on vacation in North Korea in 2011.
(This story has not been edited by NDTV staff and is auto-generated from a syndicated feed.)