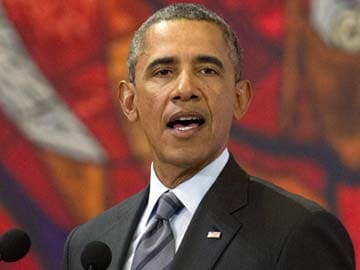 Seoul:
North Korea is a "pariah state" whose heavily militarised border with the South marks "freedom's frontier", US President Barack Obama told American troops in Seoul on Saturday.
Obama, who was wrapping up a two day visit to South Korea, said Pyongyang's continued pursuit of nuclear weapons is "a path that leads only to more isolation".
His comments come after satellite images revealed the North could be preparing to carry out an atomic test -- its fourth -- despite stringent sanctions imposed by the international community.
They also come hours after Pyongyang state media claimed the North had been holding a young US citizen for two weeks because of his "rash behaviour" while passing through immigration.
Obama made no mention of the arrest of a man whom Pyongyang identified as 24-year-old "Miller Matthew Todd", but said the North's border with its southern neighbour marked the dividing line between two very different places.
"The 38th Parallel now exists as much as a contrast between worlds as it does a border between nations, between a society that's open and one that is closed," he said.
"(It is a border) between a democracy that is growing and a pariah state that would rather starve its people than feed their hopes and dreams."
He said ideals such as freedom, progress and democracy that are held dear in much of the world are "not an accident".
"These are things that have to be fought for... And they've got to be tended to constantly, and defended without fail. And here, on freedom's frontier, they are."
- 'Path to more isolation' -
Obama's pep talk came as the Korean Central News Agency (KCNA) reported Saturday that leader Kim Jong-Un had urged his soldiers to be ready for "impending conflict with the United States".
North Korean media regularly carries colourfully-phrased warnings that the isolated state is on the verge of war.
Meanwhile, pictures from satellites have suggested increased movement of vehicles and materials near what are believed to be the entrances to two completed test tunnels at North Korea's Punggye-ri test site.
Also visible were probable command and control vehicles intended to provide secure communications between the test site and other facilities, the US-Korea Institute at Johns Hopkins University said on its closely followed 38 North website.
North Korea has conducted three nuclear tests, in 2006, 2009 and 2013, despite increasingly strict sanctions imposed by the outside world.
On Saturday, the Institute for Science and International Security (ISIS) released higher resolution pictures taken on Friday that it said confirmed the 38 North assessment that test preparations appeared to be advancing.
It cautioned that the North's intentions were difficult to second guess, but added: "a test in the next several days cannot be ruled out by any means."
Speaking to troops, Obama blasted Pyongyang's atomic programme, which he said would do the country no good.
"North Korea's continued pursuit of nuclear weapons is a path that leads only to more isolation," he said.
"It's not a sign of strength. Anybody can make threats. Anyone can move an army. Anyone can show off a missile.
"That doesn't make you strong. It does not lead to security, or opportunity, or respect. Those things don't come through force. They have to be earned."
Obama, whose four nation tour of Asia began in Japan, said the US was committed to its friends in the region and pledged the US-South Korean alliance was as "strong as it has ever been".
"We don't hesitate to use our military might to defend our allies and our way of life," he told cheering troops and air force personnel.
Obama was at the US Army's Yongsan garrison with President Park Geun-Hye to visit the command centre for joint military operations.
There are around 28,500 US service personnel in South Korea. Under present arrangements, US forces would take command of the South's military, but an agreement is due to change that in 2015.
However, on Friday Park and Obama agreed that they could reconsider that stratagem and push back the handover date.
Obama took off from Seoul around lunchtime, bound for Kuala Lumpur. His Asian tour will also take him to Manila.