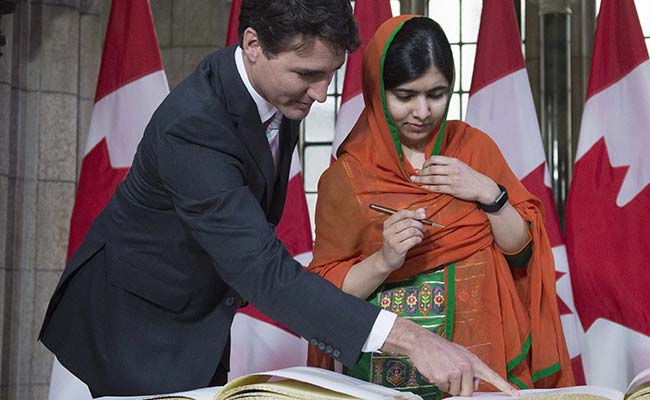 Toronto:
Pakistani Nobel Laureate Malala Yousafzai was bestowed honorary Canadian citizenship on Wednesday.
Yousafzai was greeted on the steps of the Centre Block by Canadian Prime Minister Justin Trudeau, as well as a parade of dignitaries, cabinet ministers and diplomats inside the rotunda beneath the Peace Tower, The Toronto Star reported.
Moments later, Trudeau presented her with a certificate documenting her as an honorary Canadian, making her the sixth and youngest ever person to receive the honour.
"It is not just an honorary citizenship of Canada; it is also being Canada's friend, and I warmly accept it," Yousafzai told the gathering afterward.
"I want to thank Canada for its passion for girls' education, for its passion for humanity, for refugees, and for standing up for women's rights, and for peace.
"You are a true example to the world of what it means to stand up for humanity, and I'm hopeful you will inspire many more countries and many more leaders to follow your footsteps," she said.
At the ceremony, Trudeau said that Malala's story was inspirational.
"All the violence you survived at the hands of the Taliban didn't deter you as it would have so many others," Trudeau told the ceremony. "You stood even stronger in the face of oppression; your passion for justice only intensified," he added.
(Except for the headline, this story has not been edited by NDTV staff and is published from a syndicated feed.)