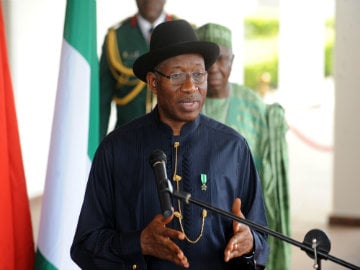 Abuja:
Nigerian President Goodluck Jonathan on Thursday vowed "total war against terrorism" following last month's mass abduction of schoolgirls by Boko Haram Islamists amid news of attacks in three border villages that claimed 35 lives.
Jonathan said in an address marking 15 years since the return of civilian rule to Nigeria that no efforts would be spared to rescue the more than 200 girls kidnapped from a school in the northeastern town of Chibok in Borno state on April 14.
"I am determined to protect our democracy, our national unity and our political stability by waging a total war against terrorism," he said.
"The unity and stability of our country, and the protection of lives and property are non-negotiable," he added.
But on the same day as his vow to end the violence a military source and residents said Boko Haram had killed 35 people in separate attacks on three villages near the border with Cameroon, opening fire on villagers and torching homes.
"Boko Haram attacked the three villages Wednesday morning in which 35 people were killed," a military officer in the Borno state capital Maiduguri told AFP on condition of anonymity.
"The insurgents hurled petrol bombs into homes, setting them ablaze and shot residents as they tried to escape," he said.
Africa's most populous country and biggest economy, which returned to democracy on May 29, 1999, after nearly 16 years of military rule, has been blighted over the past five years by an Islamist insurgency in the north and central regions that has claimed thousands of lives.
The daring abduction of the teenage girls which sparked global outrage has drawn unprecedented attention to Boko Haram's extremist uprising with several foreign countries like the United States, Britain, France and China offering military aid and intelligence.
"I have instructed our security forces to launch a full-scale operation to put an end to the impunity of terrorists on our soil," Jonathan said.
"I have also authorised the security forces to use any means necessary under the law to ensure that this is done. I assure you that Nigeria will be safe again, and that these thugs will be driven away," he vowed.
Blaming 'foreign elements'
Jonathan linked the Boko Haram group with foreign organisations such as Al Qaeda.
"For our citizens who have joined hands with Al Qaeda and international terrorists in the misguided belief that violence can possibly solve their problems, our doors remain open to them for dialogue and reconciliation, if they renounce terrorism and embrace peace," he said.
Nigeria is increasingly keen to blame outside forces for the Boko Haram violence, but experts largely reject this claim and instead see the violence as largely domestically inspired.
There are also suggestions that Nigeria lacks the capacity to end the insurgency as acute poverty, illiteracy, underdevelopment, unemployment and official corruption mainly in the north have continued to fuel the violence.
"It is a sad fact that as I address you today, all the gains of the past 15 years of democratic governance in our country are threatened by the presence of international terrorism on our shores," Jonathan said.
"Our dear country, Nigeria, is facing a new challenge. A war has been unleashed on us. Extremist foreign elements, collaborating with some of our misguided citizens, are focused on an attempt to bring down our country and the democracy and freedom we cherish and celebrate today," he said.
Jonathan however appealed to the Islamists to renounce violence and embrace peace.
"My government, while pursuing security measures, will explore all options, including a readiness to accept unconditional renunciation of violence by insurgents, and to ensure their de-radicalisation, rehabilitation and re-integration into the broader society," he added.
As part of efforts to galvanise local and global attention to the plight of the abducted schoolgirls, some 200 protesters, including Nollyhood stars, held a peaceful rally in Lagos on Thursday.
The government has faced increasing criticisms over its slow response to the abduction.
Boko Haram which means "Western education is forbidden", has stepped up deadly raids in northeast Nigeria in recent months, pillaging and burning entire villages and killing residents as part of its violent campaign to establish an Islamic state in the north.
In the latest attacks residents said dozens of Boko Haram gunmen dressed in military uniform stormed Gumushi, Amuda and Arbokko near Cameroon, opening fire on residents and torching homes.
The military put the death toll in Gumushi at 26, but local media said it was as high as 42.
Witnesses said the gunmen also launched coordinated attacks on the neighbouring farming villages of Amuda and Arbokko, killing nine people and destroying scores of houses.
A state of emergency has been in place in Borno and two neighbouring states of Adamawa and Yobe since May last year.