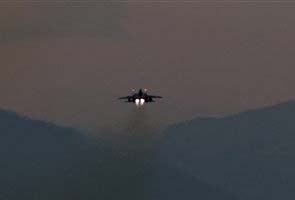 Brussels:
With NATO's bombing of Libya now in its sixth month, a new sense of urgency is gripping the alliance before two critical deadlines next month.
After months of combat stalemate, the insurgents have made dramatic gains in recent weeks. An offensive from their beleaguered enclave in the Nafuz Mountains resulted in the capture of the strategic Mediterranean town of Zawiya and put them within striking distance of Moammar Gaddafi's capital of Tripoli.
The rapid advance offers NATO the chance to bring to a conclusion a campaign that has drawn increasing international criticism and caused serious rifts within the alliance.
NATO officials deny there has been a fundamental shift in tactics in recent days to provide close air support to the advancing rebels, saying they continue to be focused on the protection of civilian populations as mandated by a U.N. Security Council resolution.
But they acknowledge that in a new development, alliance bombers are pummeling Gaddafi's troops holding defensive positions around government-held towns and villages under attack from the advancing rebel forces.
"The persistent and cumulative action of NATO is creating an obvious effect," NATO spokesman Col. Roland Lavoie said Sunday. "Pro-Gaddafi forces are gradually losing their capabilities to command, to conduct and to sustain" their actions."
A NATO official said that early in the campaign NATO airstrikes focused on preventing Gaddafi's troops from reoccupying rebel-held towns. These rebel attacks on regime forces destroyed hundreds of tanks, armored vehicles and guns.
But within a few weeks, Gaddafi's soldiers switched tactics, abandoning their vulnerable heavy weaponry in favor of civilian trucks armed with machine guns or recoilless rifles, which proved difficult to identify and destroy from the air.
"Now the rebel offensive has put them on the defensive, and they are again bringing out their tanks and heavy artillery," said the official who could not be named under standing rules.
"This is why we've been attacking them even when they are trying to beat back rebel advances," he said. "We're still protecting civilians because as soon as the rebels push pro-Gaddafi forces from a town, his troops will turn around and shell the place."
But analysts note that NATO's continued claims of simply protecting civilians strains credulity, saying the direct tactical air support to the ragtag rebel forces is enabling their battlefield victories.
"It was inevitable that the mission would spiral and the interpretation of U.N. resolutions would widen," said Barak Seener, a Middle East expert at the Royal United Services Institute, a British military think tank. "Thus, NATO has bombed government targets, paving the way for rebels to reach Zawiya."
"Protecting civilian populations now means getting rid of Gaddafi," Seener said.
Alliance military planners are racing against a deadline next month, when member states must vote on a second three-month extension of the mission. This extension may prove problematic, since support for the bombing campaign has eroded among allies who say it detracts resources from NATO's main mission, the 10-year war in Afghanistan.
Also in September, the U.N. General Assembly is due to take up the airstrikes, with many members blaming NATO for overstepping the original U.N. mandate in March which only authorized a no-fly zone and the protection of civilians caught up in the civil unrest.
Get Breaking news, live coverage, and Latest News from India and around the world on NDTV.com. Catch all the Live TV action on NDTV 24x7 and NDTV India. Like us on Facebook or follow us on Twitter and Instagram for latest news and live news updates.