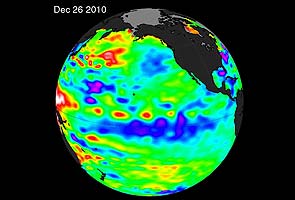 Washington:
The US space agency has said that a particularly strong La Nina weather pattern of cooler
water temperatures is fueling heavy rains and floods in Australia.
"Although exacerbated by precipitation from a tropical cyclone, rainfalls of historic proportion in eastern Queensland, Australia have led to levels of flooding usually only seen once in a century," said David Adamec, oceanographer at NASA's Goddard Space Flight Center.
"The copious rainfall is a direct result of La Nina's effect on the Pacific trade winds and has made tropical Australia particularly rainy this year."
NASA is monitoring weather patterns via satellite images which show a strong La Nina pattern in November and December 2010.
"The solid record of La Nina strength only goes back about 50 years and this latest event appears to be one of the strongest ones over this time period," said climatologist Bill
Patzert of NASA's Jet Propulsion Laboratory in California.
"It is already impacting weather and climate all around the planet."
Australia's third-largest city Brisbane was reeling Thursday with whole suburbs under water and infrastructure smashed as the worst flood in decades hit 30,000 properties.