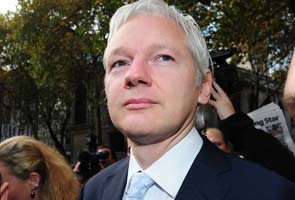 New Delhi:
The names of Indians holding Swiss bank accounts may be revealed by WikiLeaks sometime next year, its founder Julian Assange said on Sunday.
Assange, who is under house arrest in the UK, said this through video-conferencing at a conference in Delhi, that whistle-blower Rudolf Elmer, who passed CDs containing information to him, is undergoing trial and it would not be proper to make disclosures at this juncture.
Asked if names of Indians holding Swiss accounts will be revealed in the coming year, he said, "yes".
Information about such accounts "which will affect India" will be revealed in the coming year, he said.
He said since Elmer was jailed and facing legal action, he would not like to comment on the issue at the moment.
"For that reason, unfortunately I cannot speak about information related to Swiss accounts in great detail... we must protect our people," he added.
The Australian whistle-blower said governments in some countries are "sucking out" data from e-mails and internet transactions and passing on this "economic intelligence" to companies like Walmart.
He made some startling revelations about "hacking" and "hijacking" of data of unsuspecting people.
Assange maintained that NTRO, which he termed was India's equivalent of National Security Agency of the US, was engaged in similar kind of surveillance under the cover of keeping track of "Islamic terror".
However, there were no known instances of NTRO sharing such information with private companies.
Assange said e-mails, transactions done through credit and debit cards as well as information sent on the internet, "go through the Pacific (Ocean) and US" and are intercepted in the name of national security and to combat terrorist threats.
"Part of this mission is to provide economic intelligence to companies like Walmart, Lockheed Martin and Boeing. They (security and private agencies) suck up this intelligence and use it for economic benefits," Assange said.
He, however, maintained that he did not have any proof of the beneficiary companies paying for this kind of information.
Walmart is one of the companies which would be able to set up shop in India after the recent government decision to allow 51 per cent FDI in multi-brand retail.
Assange claimed that two Indian companies were helping India's external intelligence unit - Research & Analysis Wing (RAW) - in electronic surveillance of e-mails and mobile phone calls. He said such acts were done with or without the collaboration of service providers.
"A big French surveillance company was helping (Libyan dictator) Gaddafi to keep an eye on people," he said, adding that the company also boasts of capability in surveillance in Hindi and Tamil.
Assange said around six years back when he was involved in research in this field, he had come across information that the Chinese had hacked into CBI's system and was "sucking out" information for its purpose.
Such information was being used by some credit and debit card companies as well, he alleged.
"We are giving away an extraordinary degree of our liberty about our life. I don't think one should. Indian sovereignty is directly affected by these companies," he said.
The 40-year old said during the last US elections in which Barack Obama became president, a major issue was the alleged hacking being done by a prominent multinational telecommunications company of that country.
However, Assange said India with its Right to Information law and transparency was "one of the best" countries on the issue of right of people to know.
He rued the complexity and secrecy resorted to by the surveillance companies and alleged that these firms "fundamentally operate and thrive" outside the rule of law.
They terrorise people into not reporting these instances, convincing them that "the Chinese may invade or the Russians may throw a missile" at India if this was done, he said.
In another observation, he said a "transnational elite" was moving close to each other cutting across national and regional barriers.
Assange described countries like US and UK as "totalitarian surveillance states" and maintaned that some regimes were behaving like the erstwhile USSR.
He named a German company which sells its surveillance equipment by openly stating it can be used for spying on one's political opponents.
Assange said he has been under house arrest for two days less than a year though no charge has been filed against him.
"The process is a punishment," he said.