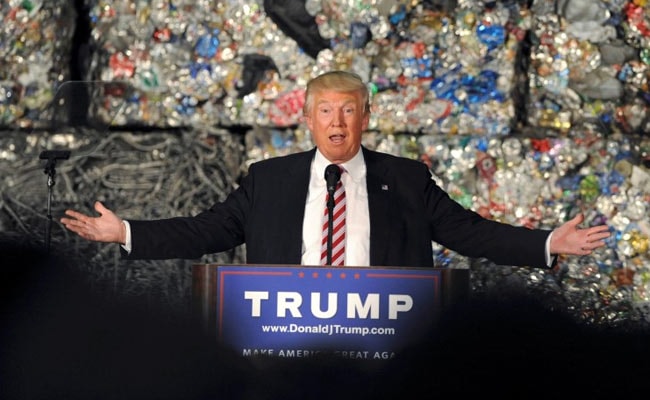 Highlights
Thousands of Trump's supporters have started arriving in Cleveland
Cleveland's hospitals are already prepping for violence
Trump will be nominated as the presidential candidate at the convention
Cleveland:
As Republican National Convention began in Cleveland today amid tight security and tensions following a series of shootings in the US, Muslim doctors in this city have said they will provide medical help to Donald Trump's fans if needed despite his anti-Muslim rhetorics.
Trump, 70, who has encouraged a wave of anti-Muslim sentiment in the US - from a complete ban of Muslims to "extreme vetting" - would be formally nominated as the party's presidential candidate at the convention.
Thousands of Trump's supporters from across the US have started arriving in the city along with the party delegates.
Several thousand protesters along with the anti-Trump movement have also come to the city to hold protest rallies every day.
Cleveland's hospitals are already prepping for violence.
"But even as his most ardent supporters arrive for the Convention to cheer on his nomination, the city's Muslim doctors stand ready to provide them with medical help," The Daily Beast reported.
While 'Land is known for its high-quality hospitals, what's less well-known is that Muslims make up a substantial proportion of the city's medical professionals, it said.
In response to anti-Muslim rhetoric, Dr. Bryan Hambley helped found a Cleveland protest organisation of doctors, nurses, and medical professionals called Stand Together Against Trump, or STAT-which is a medical term from the Latin word "statim," meaning immediately or right away, it said.
"Muslim Doctors Save Lives In Cleveland" is one of the group's mottos. There are about a dozen Muslim medical professionals affiliated with the group, Hambley said, and he estimated that the medical residency programs he has been part of have included between 10 to 20 percent Muslim students.
"There's this running stereotype amongst Muslims that your parents expect you to either become a doctor or engineer.
That's the way we see it," said Dr. Fatima Fadlalla, a resident physician in internal medicine who grew up in Cleveland and then returned for her residency.
She estimates that there are thousands of Muslim doctors in Cleveland, and that among her Muslim friends, around 90 per cent are physicians or in the medical field.
"We have a lot of Muslim doctors in this city. If they stopped working for a day, the whole medical system might come to a halt in the Cleveland area. We save lives every day," said Isam Zaiem, a retired medical technologist who has lived in Cleveland since 1974 but hails from Syria.
"I would just treat them like anybody else, if (a Trump supporter) needs my help. I would help without hesitation. It's no problem to have disagreement on issues," she was quoted as saying by the Daily Beast.
The protests, marches, and demonstrations planned for this week in Cleveland have the potential for a toxic mix: extremists from white supremacists to the New Black Panther Party have indicated that they will be attending.