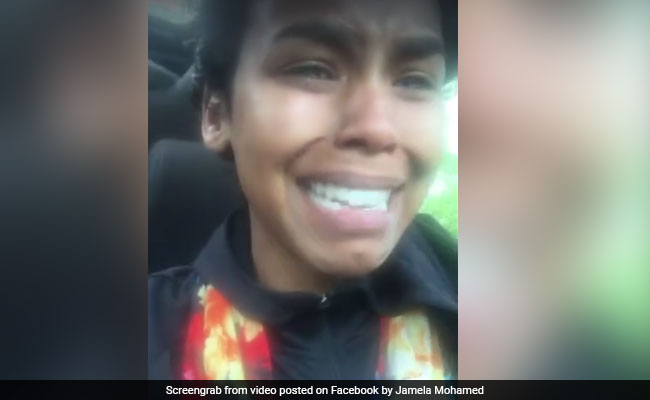 Highlights
Jamela Mohamed, recorded the incident on her cellphone
The staff threatened to call the police if she did not 'remove her hood'
The bank admitted the situation was not handled well and apologised
New York:
A Muslim-American woman was allegedly thrown out of a bank in the US for 'wearing a hijab' - with the staff threatening to call the police if she did not 'remove her hood'. Jamela Mohamed went to a branch of Sound Credit Union in Washington state on Friday to make a car payment.
Ms Mohamed, an American and a member of the credit union, recorded part of the incident on her mobile phone, claiming it shows blatant 'discrimination'.
She said she had been wearing a sweater and had the hood up because it was a Friday, which is when Muslims offer weekly prayers in the afternoon. The teller asked Ms Mohamed to take off her hood. A sign inside the Credit Union says hats, hoods and sunglasses are not allowed, ABC-affiliated television station KOMO-TV reported.
Ms Mohamed said she was following the policy so she went to her car to grab her headscarf, or hijab. She went back in with her scarf, while still wearing her hood, the report said.
While she was waiting, Ms Mohamed says she took some video of the sign and of two male customers wearing baseball caps because they were being helped without any issues.
"Why am I witnessing a man being serviced with a hat on and I'm being told to take off my hood?" she asked.
"This is my hood. My face is showing and so I currently do have an issue today. I'm being polite, I'm complying. I simply stated that I just need to pay my car note today," she said to a teller again.
Following this, a Credit Union supervisor approached her. Ms Mohamed took cellphone video of the supervisor counting to three and then, saying she was going to call 911.
"I didn't even get to utter a word," Ms Mohamed said, after the supervisor told her to remove her hijab.
"You have to take your hood off," said the woman in the video.
Ms Mohamed was left in tears after being allegedly thrown out of the bank.
"I feel so embarrassed right now," she said.
Sharing the video of her ordeal on Facebook, she wrote:
"I never want this to happen to anybody and NOBODY should ever be treated this way. Thank you."
Sound Credit Union later posted on its Facebook page saying it did not handle the situation well, is apologising, and will make sure it never happens again.
"It is clear our training needs to include more empathy and sensitivity to all cultures, because as a credit union, we believe in equal treatment of all people," it said.
As a credit union, we believe in equal treatment for all.
See the latest update here: https://t.co/C5Mg4NHpeapic.twitter.com/cqcVmlW2To

- Sound Credit Union (@sound_cu) May 8, 2017