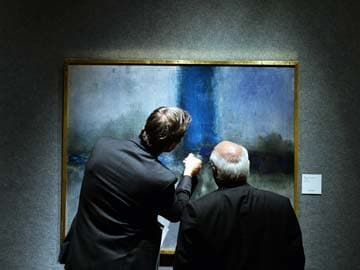 New York:
Seminal works by one of India's most well-known modern artists Vasudeo S Gaitonde will be put on the block this week at a leading US auction house to celebrate iconic Indian and Southeast Asian art.
Bonhams, one of the world's largest auctioneers of fine art and antiques, will offer for sale Mr Gaitonde's works, including an 'Untitled 1961' oil on canvas valued at USD 300,000-USD 500,000.
Another 1963 painting by the artist has been valued at USD 600,000- USD 800,000 and will be offered for sale on September 17.
The auction house said the two Gaitonde paintings were created at a "dramatic turning point" in the New York-based artist's career.
Leading auction house Christie's is offering for auction an 'Untitled' oil on canvas signed and dated 'VS Gaitonde 71' valued at USD 750,000 - USD 900,000.
Bonhams' Indian, Himalayan & Southeast Asian department, has uncovered a vast trove of never-before published documents and correspondence from the famously reclusive artist that will feature in a limited edition catalogue of 500 copies dedicated exclusively to the two paintings.
"We are honoured to be presenting these works by Gaitonde at an opportune time in the market. The research we have conducted has shed new light on the artist's life and interactions with other artists at a pivotal stage of his career," said Edward Wilkinson, head of the department.
"The early reaction to the previews staged in London and New York indicate that there will be strong competition," said Mr Wilkinson.
The auction house said Mr Gaitonde has "finally arrived on an international stage" with a retrospective at the prestigious Guggenheim museum opening on October 24. American artist Morris Graves, who once owned the paintings, said, "They are the most beautiful landscapes of the mind."
Preserved at the University of Oregon's Special Collections and Archives Library, letters between Mr Gaitonde and Mr Graves bring to light his relationships with other artists and the way in which he managed the distribution of his prized works as a young emerging artist.
After Mr Graves, the works belonged to George Gund III, a member of one of the great art collecting families.
The limited edition catalogue will detail the complete international provenance of the two paintings and feature an essay by Mamta Saran, a noted scholar who took care of the artist during his last years.
The works will also feature in her upcoming book on Mr Gaitonde expected to release in 2015.
Born in 1924, Mr Gaitonde was in his late 30s when he created the paintings.
"Gaitonde's international reputation today is the result of his lifelong and uncompromising pursuit of excellence. His chosen path fraught with difficulties was his unwavering commitment to the idiom of abstraction," the house said of his work.
"Clearly, we see here an artist in full possession of his powers, speaking for the first time in a voice uniquely his own. The vibrant colours, heavy impasto, and rigorous geometry of the late '50s now gave way to contemplative works of the highest quality. The compositions are of utmost simplicity and the palette is derived from nature.
"Veils of overlapping colour irradiate the canvas creating an illusion of endless space and mystery hangs in the air," it said.