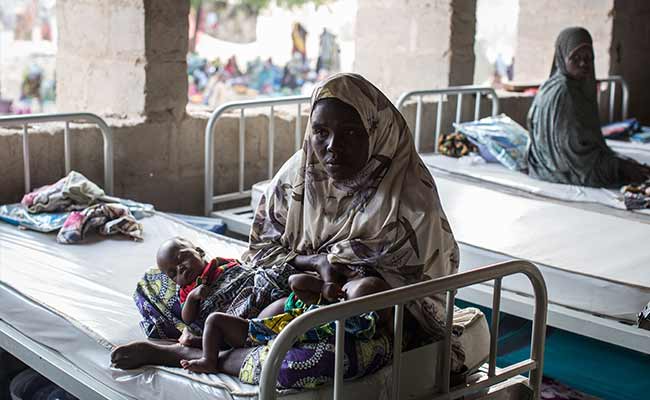 Maiduguri:
A woman in a pale and patterned hijab, stares blankly from a bed in a makeshift clinic at a camp for the displaced in Maiduguri, northeast Nigeria, with newborn twins resting on her lap.

After escaping Boko Haram's murderous rampage in the town of Bama, some 70 kilometres (45 miles) away, caring for her infants may be more of a concern than voting in Saturday's presidential election.

But election officials are trying to ensure that those forced from their homes by the fighting can get to the polls. The effort has been complicated by fast-changing realities on the ground.

President Goodluck Jonathan on Friday said it was now possible for thousands of the displaced to return home, praising a military offensive that has reclaimed a series of towns and villages from Islamist rebel control over the last six weeks.

The Independent National Electoral Commission (INEC) has been "watching" for signs of masses moving home, trying to decide if it should send ballot papers to the remote towns targeted by Boko Haram, spokesman Kayode Idowu said.

But "even in those territories that have been liberated, people are reluctant to go back," he said.

So, less than 24 hours before the polls open, INEC is preparing for hundreds of thousands to vote in "safe zones" across the region, Idowu told AFP.

Those living in camps and the tens of thousands of others staying with relatives or host families should be able to vote in these so-called safe zones, with polling stations that correspond to their abandoned home towns, he said.

Keeping its word

Opposition presidential candidate Muhammadu Buhari of the All Progressives Congress (APC) expects an overwhelming majority of the displaced to back him on Saturday, given the hardship they have endured under Jonathan's watch.

"Some of them are psychologically affected... some of them trekked through the forest and were accidentally wounded. Gunshots, diarrhoea and vomiting," said Yakime Kodomi, chief nurse at a camp in Maiduguri.

"And all the men and women are starved and dehydrated," he added, with a group of visibly exhausted men sitting on mats in a dimly lit concrete corridor nearby.


Buhari has fiercely criticised Jonathan's handling of the six-year Boko Haram insurgency, while the APC has scoffed at the notion that traumatised northeasterners would want to give the president another term.
Buhari, like a majority of the displaced, is a northern-born Muslim and will therefore benefit from the tribal and religious alliances that often dictate elections in Nigeria.
At a news conference on Thursday to close the APC campaign, party leaders were asked if they would respect the result if it turned out their likely supporters in the northeast were disenfranchised.
"The last we heard from INEC is that the northeast is going to vote," APC chairman John Oyegun said. "We do not expect INEC not to keep its word.
Vote for change
A half-completed brick building in Nigeria's capital has become Isa Umar's home since he fled violence in the northeast earlier this year.
In a sense, he is fortunate to have made it Abuja, which has also been attacked by Boko Haram but which is by any measure safer than northeast state capitals like Maiduguri or Damaturu in Yola state.
But for Umar, the prospects of voting on Saturday look grim: he cannot go home to vote and will not have access to a so-called safe zone in Abuja.
"Maybe my vote can change this situation," he said, referring to his family's displacement. "That's why I seek to vote but I can't."
Umar's predicament is unusual, as only a small fraction of those displaced by Boko Haram are staying in Abuja.
But the devastation the uprising has brought to his life -- four siblings killed and most of his possessions lost -- is a common story heard throughout the northeast.
"I want to vote for my candidate for change, to get me out of this misery," he said. "We are living in an uncompleted building, so you can see the misery we are passing through."