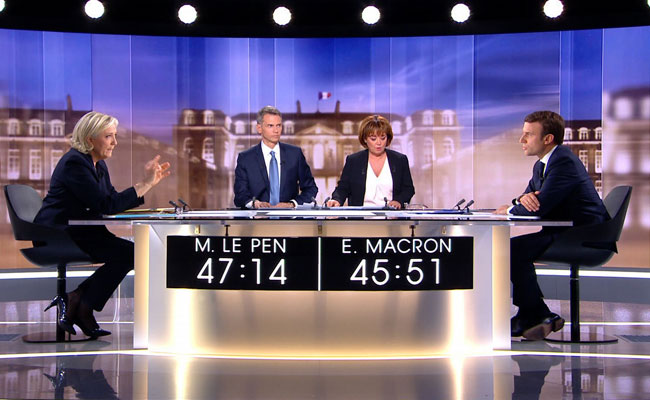 Paris, France:
As France heads into the final round of voting on Sunday, the two finalists, centrist Emmanuel Macron and far right Marine Le Pen, faced each other in a fierce televised debate.
In a tense and bitter clash, both candidates hurled invectives at each other, sparring aggressively for more than two hours in a last ditch attempt to woo undecided voters.
Many found the debate "undignified" but there wasn't a single dull moment in the no-holds-barred face off.
The far right candidate, Le Pen, tried to frame Macron as someone who bore the legacy of France's highly unpopular outgoing president, Francois Hollande. She hyphenated Macron's name with the very unpopular El Khomri labour law passed by the Hollande government.
Macron, Hollande's former economy minister, who quit the government and floated his own party a year ago, accused Le Pen of manipulating angry voters. "Talk about your own projects instead of talking nonsense about mine," he insisted. Macron repeatedly said Le Pen was lying to voters and at one point even called her a "parasite".
Le Pen accused Macron of being a "banker" who protected "private interests" as Macron lashed at her for standing for "the spirit of defeat".
For most part of the debate, Emmanuel Macron was under scathing attack from the very aggressive Le Pen. Macron in turn took a patronizing and sharply condescending posture. "France deserves better than you, Madame Le Pen," he said.
Le Pen read notes and rummaged frequently through papers though she looked at ease even when speaking in a shrill tone. Macron had no notes and came across as more natural and ready with facts though looked visibly more tense.
Le Pen waivered over economic reforms and couldn't really defend her position on Europe and her monetary policy. Yet she promised she would " snatch Europe from the hands of the European Union".
Macron mocked Le Pen's anti-terror plan by saying, "Terrorists who blow themselves up will surely shake with fear at the idea of losing their French passport". He reminded Le Pen, "You are under a judicial probe, not me," hinting at allegations that her aides held fake EU jobs.
Le Pen jeered at Macron and giggled frequently. At one point she even made a face palm gesture. It was a presidential debate like no other France has seen before.
In what seemed to be a reference to PM Modi and President Trump, far right Le Pen named India and US among big nations that are "on the line" she's on.
Le Pen said a woman would lead France anyway. "It will be me or Madame Merkel," said Le Pen, implying that if she loses, France will play a submissive role to Germany under Macron.
Macron on the other hand drove the last punch home saying, "You stay on television; I want to preside over the country."
Viewer approval ratings gave Macron a clear lead after the debate.
Macron 63%
Le Pen: 34%
Who the voters will judge truly "presidential" will only be clear by Sunday night as early results of the day's voting start coming in.