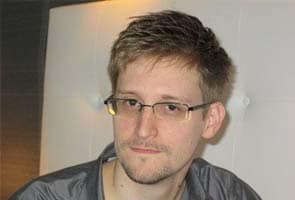 Paris:
WikiLeaks chief Julian Assange today urged European nations not to bow to US pressure and to accept fugitive intelligence leaker Edward Snowden into their countries.
"European Union states, first and foremost France and Germany, should reserve him their warmest welcome, under any status whatsoever," Assange said in an opinion piece, co-written with the head of media-rights group Reporters Without Borders (RSF), published in French newspaper Le Monde.
Noting the European Union's 2012 winning of the Nobel Peace Prize, Assange said: "Europe must rise to the occasion and show its willingness to defend freedom of information, whatever its fears of political pressure from its 'best friend' the United States."
In the piece written with RSF chief Christophe Deloire, Assange said the public value of Snowden's leaking had been shown by his revelations of widespread US spying on European diplomatic missions and offices.
"Targetted by an apparatus that intrudes on their sovereignty and principles, the countries of the EU are indebted to Edward Snowden for his revelations, which are clearly in the public interest," the piece said.
"If this young man is abandoned in the international area of the Moscow airport, European countries will be abandoning their principles and part of the EU's reason for existing," it said.
Snowden has been holed up in a Moscow airport transit area since June 23, seeking to avoid US espionage charges for revealing a vast surveillance programme to collect phone and Internet data. He has requested asylum in 21 countries.
Assange has himself sought refuge in the Ecuadoran mission in London to avoid claims of sexual assault in Sweden that he says are part of a conspiracy to get him to the United States.