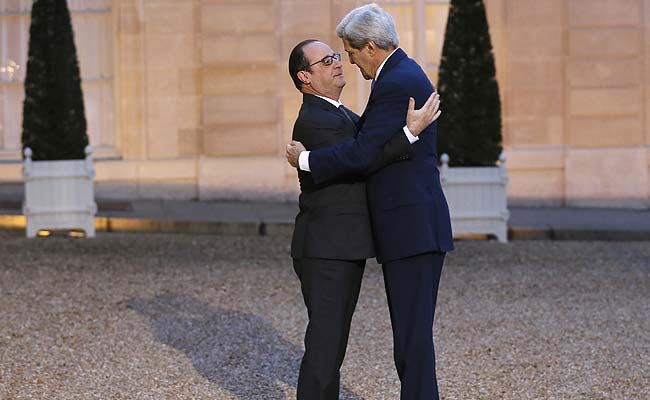 Paris:
US Secretary of State John Kerry clasped French President Francois Hollande in a warm embrace today and said the US shared France's pain after its deadliest attack in half a century.
In an unusual move, President Hollande trotted down the steps of the Elysee Palace to greet Mr Kerry, who hugged the French President in front of a phalanx of photographers.
"I know you know that we share the pain and the horror of everything that you went through," said Mr Kerry.
"Our hearts are with you."
Mr Hollande said the French people "were victim of an exceptional terrorist attack," likening last week's events to the September 11, 2001 attacks.
"We must therefore together find the necessary response. And that is the (reason) for (our) meeting today beyond friendship," said Mr Hollande.
The United States faced criticism for not sending a top-level representative to last Sunday's march in Paris in the wake of the attacks, which drew 1.5 million people onto the streets of the French capital and dozens of world leaders.
The White House was forced to admit it erred in sending only its Ambassador when most countries were represented at head of state or ministerial level.
Mr Kerry, a noted Francophile who also speaks French, told his counterpart Laurent Fabius that he was unable to come earlier because he was travelling in India and Bulgaria.
Mr Fabius told reporters that he had "apologized" for his absence, which prompted controversy on both sides of the Atlantic.
The top US diplomat and Mr Fabius laid a wreath of red roses and carnations as well as white lilies at the Jewish supermarket where four people died in a siege, the last in a spate of Islamist attacks over three days in and around the French capital.

'Great elegance and grace'
In all, three Islamist gunmen killed 17 people, including 12 people at the offices of satirical magazine Charlie Hebdo and a young policewoman.
"We appreciate your comments about our common history. ... The American people watched you and your team indeed all of the (government) lead with great elegance and grace in this week," Mr Kerry told President Hollande.
Mr Kerry and Mr Fabius later laid a wreath at the Charlie Hebdo offices, as the victims of that attack continued to be laid to rest.
The burials of three more members of the Charlie Hebdo team were taking place today, with bagpipes playing "Amazing Grace" ringing out at the funeral of Stephane Charbonnier, alias Charb, the Editor-in-Chief.
Since the attacks, copies of the magazine have flown off the shelves with a print run of five million compared to a normal circulation of 60,000.
Finally, Mr Kerry visited the scene outside the Charlie Hebdo offices where a Muslim policeman was gunned down by the two Islamist brothers Said and Cherif Kouachi.
With Ambassador Jane Hartley, Mr Kerry placed a bowl of flowers on the spot which has also become a makeshift shrine.
He then stood silently for a minute with his head bowed before crossing himself.
The John Kerry visit came as the shell-shocked French capital remained on edge after last week's attacks.
French authorities detained 12 people overnight in the suburbs of Paris, a judicial source said, in connection with the shootings.
The nine men and three women were to be questioned about "possible logistic support" they may have given to the gunmen, in particular weapons and vehicles, the source said.
Raids were still taking place in Montrouge just outside Paris, where gunman Amedy Coulibaly killed a policewoman last week, Grigny where he grew up, Fleury-Merogis south of the French capital and Epinay-sur-Seine north of the city.